Charlie Slavin (Director of Honors Program, 1997-2004; Honors Dean, 2004-2012)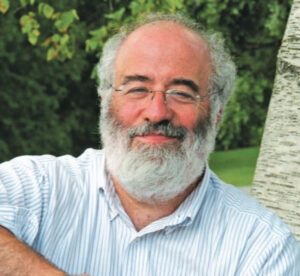 Though Honors was established at the University of Maine in 1935, it was considered a program for many years before it officially became a college. Charlie Slavin was the Director of the Honors Program when it transitioned into an Honors College in 2002, and he was instrumental in that process. In 2004, Charlie was named as the first Dean of the Honors College.
Charlie went above and beyond the duties of professor and administrator, always arriving to campus early and staying late to attend events, lectures, and student presentations, and he famously donned pink shirts and crocs. Charlie always let his students, colleagues and friends know how much they meant to him, and he was committed to helping others reach their fullest potential. He is also recognized as the namesake of the Slavin Research Fund which provides funding for Honors students to pursue research and creative projects.
Following his unexpected passing in 2012, the Honors College created Charlie's Terrace to honor his memory. Charlie's Terrace is an outdoor gathering space on the UMaine campus between two Honors buildings, Colvin and Estabrooke Hall. Graduating students each year and friends of the College are often given the opportunity to sponsor an engraved brick that becomes a permanent part of Charlie's Terrace. This space stands as a beautiful testament to Charlie's contributions to the Honors College and a symbol of the strength of the Honors community.
François Amar (Honors Dean, 2013-2020)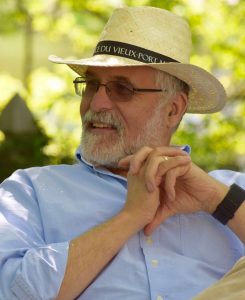 After having served many years as a Preceptor in the Honors College and a Professor of Chemistry, François Amar became Dean of Honors in 2013. His passions for interdisciplinary work and student success made his role as Honors Dean a natural fit.
While serving as Dean, François continued to give numerous lectures for the Honors Civilizations sequence including Leonardo Da Vinci's notebooks and Sidereus Nuncius (The Sidereal Messenger) by Galileo Galilei. Each spring semester, he taught the Honors Read course in which upperclass Honors students select a text for the incoming class of students to read. He also leant his years of experience working with thesis students to his role as co-teacher of the thesis research preparation course. 
Dean Amar could be always found manning the grill at the annual Honors BBQ. He was a gracious host and often welcomed groups of students into his home for his "Waffles with the Dean" brunches. His open door policy for all students, faculty, and staff was a testament to his commitment to Honors and undoubtedly strengthened the Honors community throughout his time as Dean.