Community Building and Engagement (HON 175)
---
Course Information
The course begins on Hurricane Island before classes start in the fall. Provisions will be made for participants to move into their dorms early. Students will then attend course meetings on Fridays and participate in and plan service-learning projects throughout the fall semester.
HON 175 is a 1-credit course, available for incoming first year students only. Additionally, HON 175 will substitute for HON 170 or 180. Click here for more information about HON 170 and 180.
Applications for 2023 are closed.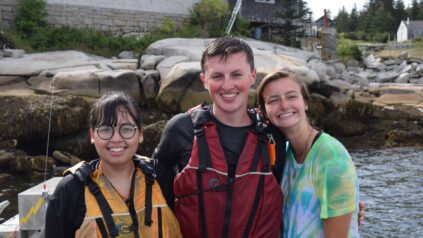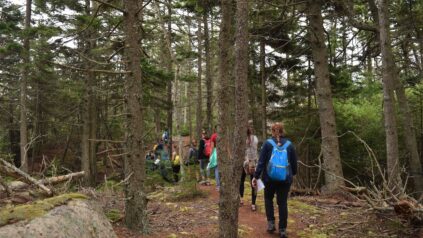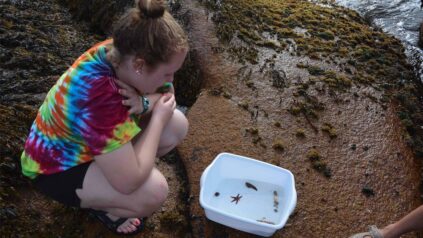 Course Description
HON 175 is a hybrid of experiential and traditional classroom learning which explores the nature of community and community engagement in relation to civic identity, responsibility, and social connectedness. Students are challenged to consider multiple roles and perspectives through experiences in and outside of the classroom.
HON 175 begins with the
Research Learning Experience (RLE)
on Hurricane Island, where we will spend several days building community, exploring the island and its history, considering issues of sustainability and the impacts of changing weather patterns on Maine's coastline communities, take up questions on the nature of engagement, and more. During the semester, HON 175 will consist of in-class meetings and experiential learning through community-engaged activities.
Course Objectives—Students will
Forge friendships with fellow Honors student travelers surrounded by the beautiful landscape and deep history of Hurricane Island through sharing experiences of glamping, hiking, swimming, exploring the intertidal zone, building rafts, lively conversations over delicious meals, among others during our 4-day trip
Consider what makes a community and what membership in one means, in our class, our College, and with our partners
 Reflect on one's memberships in communities and what that means in terms of the commitments and obligations to those communities
Engage in project-based, experiential learning and research with community partner organizations that is active, reflective, and engaged
Learn to work collaboratively toward a shared goal with classmates and community partners
Contemplate the value of belonging to a community and building connections that are meaningful, supportive, and sustainable
Course Outcomes—Students will:
Explain the value of membership and belonging to a community
Identify stakeholders in community-partnerships
Learn about constructing collaborative working groups and effectively communicating with each other and their community partners
Take responsibility for success of the community partnership/project
Reflect on how this experience has helped them develop as learners and researchers
 Identify the relevance/applicability of their experience beyond this RLE