Sarah Harlan-Haughey
CLAS-Honors Preceptor of English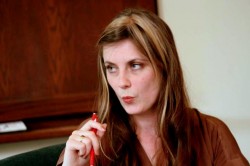 B.A. University of Montana
M.A. and Ph.D. Cornell University

Sarah earned her undergraduate degrees in English and Spanish Literature at the University of Montana, and her Master's and Doctoral degrees in the interdisciplinary Medieval Studies program at Cornell University. Her scholarship is particularly relevant to discussions of the environment and literature, colonial landscapes of power, and oral traditions. She especially seeks ways of situating the literature of the past in the context of concerns that are still relevant today, thus making medieval studies part of a broader interdisciplinary conversation. She is the author of The Ecology of The English outlaw in Medieval Literature: From Fenland to Greenwood (Ashgate 2016), and multiple articles on Old Norse, Old English, and Middle English literature, as well as Honors pedagogy. Her current research includes a survey of the medieval English outlaw tradition as nature writing, a study of the malignant landscape in the Anglo-Norman poet Layamon's Brut, and an examination of the depictions of the insular North-Atlantic land- and seascapes in Old Norse literature and later Scandinavian balladry.
I teach Honors because I want to be part of a cross-generational interdisciplinary conversation. I love that we all—both my students and my colleagues—come from very different backgrounds and perspectives, yet can take part in a joint scholarly enterprise that can broaden all our horizons. I think that the modern American university must begin to see how academic disciplines are interrelated, not discrete entities, and the Honors College has been at the vanguard of this crucial re-envisioning of the university.
My training as a medievalist requires me to think like a historian, an anthropologist, a linguist, a literary scholar, a folklorist, and (at times) a naturalist. I went to school thinking that I would learn the skills required to perform a specific job as a medievalist, but I left knowing that I had actually learned something more important—how to be prepared to think about anything that matters. The Honors College performs a similar role in our education. The Honors College looks beyond the great trap of disciplinary thinking and asks all of us to think (and talk and write) about everything and anything that comes our way.
I am very happy to be part of a community of thinkers who push one another to think harder, to look at things in a different way, to take intellectual risks.  I am proud that we try to think outside the box of disciplinary concerns and habits. I look forward to many years as a part of this deicated community of thinkers in this wonderful place.
Orality and Literacy (HON 111)
Ruminating on the Omnivore's Dilemma (HON 112)
Who painted the lion:  thinking about medieval literature (HON 111)