Honors College Traditions
Not surprisingly for an institution that traces its origins to the 1930s, the Honors College at the University of Maine has a great deal of history and tradition.  We hope you will explore some of that history and those ongoing traditions here.
---
Coinciding with the inauguration of the Honors College in 2002, the establishment of the Honors Read picked up the ten-year tradition of a Class Book at the University of Maine.  Chosen each year by a group of Honors students, the Honors Read illustrates the breadth of interests and perspectives embodied in the College.
      2019-2020 Honors Read
Educated by Tara Westover
MINERVA, the Honors College Annual
Annually since 2003, MINERVA has featured profiles of recent graduates, news about current students and alumni, updates on Honors College initiatives and events and much, much more!  It has garnered four national awards since it was first published.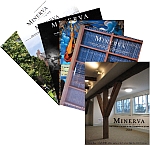 ---
Symbols
The formal Honors logo has been in use for over twenty-five years.  The Honors motto, vase, and medallion are relative newcomers, dating from the late 1990s.  We are proud to display all of them.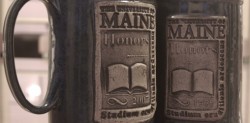 ---
Events & Initiatives
The Honors College hosts several annual events including the John M. Rezendes Ethics Initiative, the Distinguished Honors Graduate Lecture, the Thesis Symposium, CCA Collaborations and the culminating of the year, the Honors Celebration.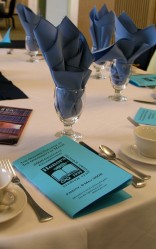 ---
Recent Honors Graduates