2005 Waiting for the Barbarians (J.M. Coetzee)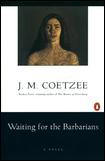 Excerpts from the letter of transmittal written by the students who chose the text:
Waiting for the Barbarians is the best choice for several reasons.  To begin with, it is a wonderfully written and engaging book.  The story brings up moral, ethical, and philosophical issues that you will deal with throughout your Honors experience.  Finally, J.M. Coetzee's Nobel Prize for Literature attests to his skill as a writer and chronicler of the human condition.
The Honors curriculum includes texts which involve important ideas and ethical considerations.  This makes Waiting for the Barbarians an ideal book to use as at the outset.  Moreover, the Honors curriculum focuses on the development of civilization.  This book, taking place in an unnamed outpost on the border of an unnamed empire, could have happened, or could happen, anywhere in the world.  You will not find it difficult to relate this text to world events.
It is appropriate to warn you that the text includes graphic descriptions.  A few scenes in Barbarians may be unnerving, however, we strongly feel that Coetzee's use of violence is not gratuitous.
The beauty of Waiting for the Barbarians is that it can be interpreted in different ways; one can analyze the book in terms of diverse, and perhaps conflicting, themes.  Bring Barbarians to your first Honors class with your thoughts and ideas and an open mind.  Learning to analyze and interpret books, and to share perspectives, is the essence of the Honors College curriculum.