2019 - Educated by Tara Westover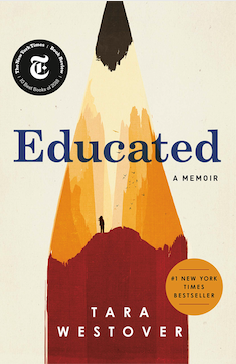 Below is an excerpt from the letter written by the students in the Honors Read Tutorial who selected the 2019 Honors Read.
Tara Westover chronicles her life as a young, homeschooled girl growing up in a strict, survivalist, atypical Mormon family in Idaho. With her family's ideals isolating her from social norms, Tara grows up oblivious to modern ideas and perspectives. She eventually decides to follow one of her siblings and leaves her family to seek a formal education. Upon doing so, she undergoes a drastic transformation in beliefs and values, profoundly changing her perspective on her own life and identity.
Throughout Tara's story many themes are explored, such as what education means under different perspectives and ideals. Tara considers her education to be the most influential experience of her life and it is in her transformative education that she forms her own identity. As you read, please consider: what does education mean to you, and what purpose does it serve in modern society?
Social roles and structures are also considered and evaluated in Educated. Tara's family has a unique structure and strongly imposed roles. As you are reading this book, consider roles and relationships between characters, and how they are both restrictive and operative. What agency do characters have and how does it affect their perspective? What transformations of identity occur and why?