2020 - Rising Out of Hatred by Eli Saslow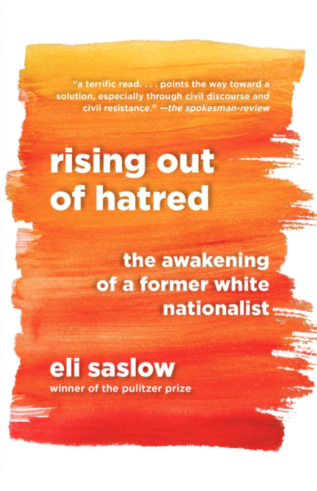 Below is an excerpt from the letter written by the students in the Honors Read Tutorial who selected the 2020 Honors Read.
Rising Out of Hatred tells the story of Derek Black, the son of Don Black, founder of the white nationalist internet forum Stormfront, and godson of David Duke, a former Grand Wizard of the Ku Klux Klan. Ever since he created a children's section for Stormfront at the age of 12, Derek was considered a child prodigy of the white nationalist movement. In Rising Out of Hatred, you will read about how a small group of students at Derek's college accepted him into their community to help him see a new way of thinking. Using personal emails, text messages, and private messages, Saslow gives us a clear view of how Derek was able to transform his mind and heart.
Throughout the Honors experience, you will spend many of your classes talking with your peers about ideas in texts and the real world. There will likely be a number of times when you will not agree with the things you read or the things you hear. In these moments, reflect on Derek's experience with the students of New College and remember the approach that led him to change his views. You do not need to give up on people when you disagree with them. In contrast to call-out culture, which is based on shaming people for their beliefs, call-in culture focuses on inviting new perspectives to the conversation. As both a scholar and an Honors College student, it is important to respect others' viewpoints even if you may not agree with them.
As Derek learns, discovering yourself is a journey. It may take patience and a little help along the way. How do you think your journey will change you? How has your past shaped your present? How will it influence your future?