Distinguished Honors Graduate Lecture
Annually since 2002, the Honors College at the University of Maine has endeavored to host a distinguished graduate for a several day visit.  The visit typically includes in- and out-of-class conversations with members of the Honors community as well as other interested  students and faculty.   The Distinguished Honors Graduate Lecture is the campus-wide highlight and in many years it was also the keynote address for the University's Student Research and Creative Achievement Week.  Between 2002 and 2008, this initiative was sponsored by TIAA-CREF, which returned as a sponsor in 2015-2016.
2018-19
Isaac Record '03 Assistant Professor of Practice
Michigan State University's Lyman Briggs College
Life, the University and Everything: My Romp Across Disciplines in Pursuit of Answers
(27 September 2016)
2017-18
Sara Morris '86 Managing Director
Stone Coast Fund Services
Accounting for Happiness: The Rewards of Unlikely Career Choices, and the Lasting Value of Kindness
(26 September 2017)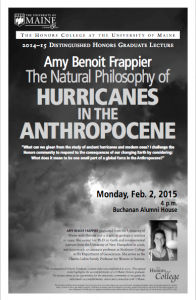 2016-17
Mark Pettegrow '81 Sculptor
Fairing the Edge: In Search of Eloquent Form
(27 September 2016)
2015-16
Mark R. Haskell '82 a partner with the Washington D.C.
office of Cadwalader, Wickersham & Taft,
specializing in energy regulatory law.
(2 November 2015)
2014-15
Dr. Amy Benoit Frappier '99  associate professor at Skidmore College
in the Department of Geosciences, serving as
Charles Lubin Family Professor for Women in Science.
(2 February 2015)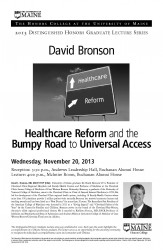 2013-14
Dr. David Bronson '69, President of the Cleveland Clinic
Healthcare Reform and the Bumpy Road to Universal Access
(20 November 2013)
   2012-13
Kristen Gwinn-Becker '97, Founder and CEO of HistoryIT
   Navigating Entrepreneurship and the Humanities
   (24 October 2012)
2010-11
Dr. Bruce Stanton '74, Andrew C. Vail Distinguished
Professor at Dartmouth Medical School
Arsenic: A Global Public Health Crisis
(23 February 2011)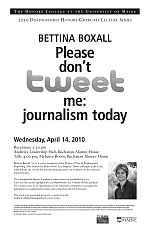 2009-10
Bettina Boxall '77, 2009 Pulitzer Prize Winner in Explanatory Reporting
Please Don't Tweet Me: Journalism Today
(14 April 2010)
2007-08
Dr. Bernard Lown '42, Recipient of the 1985 Nobel Peace Prize
On Global Activism in an Ailing World
(26 March 2008)
2005-06
Daniel P. Christensen '77, CEO Hancock Natural Resource Group, President Hancock Timber Resource Group
Is Change the only Constant in the world today?
(24 April 2006)
2004-05
George Z. Singal '67, Chief United States District Judge, District of Maine
Wandering through the Garden of Eden: How do I get out of here?
(11 April 2005)
2003-04
Charles V. Stanhope, '71, Director of Development, United States Library of Congress
Making Sense of the Information Explosion: A View from the World's Largest Library
(12 April 2004)
2002-03
Carolyn Reed, '72, Director, Hollings Cancer Research Center, Medical University of  South Carolina
Breaking the Glass Ceiling: Medicine and Beyond
(21 April 2003)
2001-02 TIAA-CREF Distinguished Honors Graduate Lecturer
James Tierney, '69, Attorney General of Maine, 1980-1990
Diversity in Maine: An Opportunity (22 April 2002)