Honors Students Travel to Washington, D.C.
If you attend an Honors College information session, you are likely to hear Dean Charlie Slavin speak about what it means to be an Honors student, and what, exactly, an Honors education is all about.  One thing Charlie frequently stresses is his hope that Honors College students emerge from their undergraduate years not only as accomplished scholars, but also as thoughtful and conscientious citizens: people who want to make the world a better place, and who are prepared to actively participate in the democratic process.
The Honors curriculum–which includes such diverse texts as Plato's Republic, St. Augustine's Confessions, Marx's Communist Manifesto and Virginia Woolf's Mrs. Dalloway–naturally develops those qualities.  Students learn to read, write and think about topics outside their academic focus, and they are frequently asked to reconcile their own beliefs and opinions with those of their peers and of the authors they read.
Still, there is something to be said for experiencing things first-hand, and although we take our charge to educate our students very seriously, we also like to have some fun and reward them for all their hard work.  With that in mind, the Honors College takes a group of students on an annual trip to Washington, D.C., where we tour the nation's capital and give students the opportunity to learn by osmosis in the heart of our political system.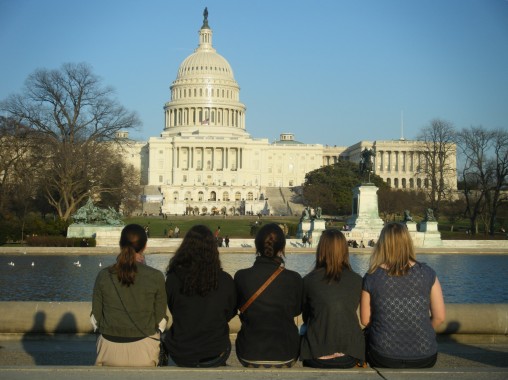 This year's trip included group tours of the Library of Congress and the U.S. Capitol Building, after which students were free to explore the city on their own.  Their adventures included everything from wandering the Smithsonian's many museums and galleries, riding to the top of the Washington Monument (which, incidentally, is made in part from stone quarried in Maine), touring the White House, and even meeting personally with Senator Olympia Snowe!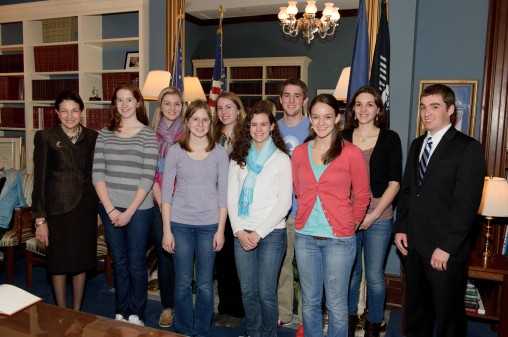 It was a really wonderful experience (DC is a great city, and one that is particularly "tourist friendly"), partly because everyone had lots of fun, but also because physically being in the heart of the American political system is a moving experience for anyone who is interested in the kind of "big questions" we tackle in Honors.  Surrounded by the imposing and dramatic architecture of the capital, and caught up in the buzz of international politics happening all around, it's impossible not to feel the weight of history and be moved by the idealism of our national mythos.  It's great when you're able to learn by doing, and even better when what you're doing is traveling to one of the most exciting cities in the world!