Winner of John M. Rezendes Annual Ethics Essay Competition
The John M. Rezendes Ethics Initiative was established to critically engage students, faculty members, and the surrounding community with ethical issues of national importance. A generous gift from Dennis Rezendes has made this initative possible. Our deepest gratitude to Dennis and Beau Rezendes for their support of Honors education and engaging studies of ethics at the University of Maine.
This year the theme was Bioethics. Congratulations to the winners listed below:
1st Place:
Connor Smart '16 (Accounting, Finance) "Using Utilitarian Theory To Improve Our Food Systems, Our Planet, and Ourselves"
Runner-up:
Antonia Carroll '17 (International Affairs, Chemistry) "White Normativity as a Bioethical Dilemma"
---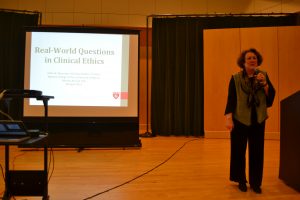 The 2016 John M. Rezendes Visiting Scholar in Ethics was Christine Mitchell. After her interesting lecture on "Real-World Questions in Clinical Ethics" she joined students in Neville Hall for a film adaptation of this year's Honors Read "Never Let Me Go," where she led a post-film discussion.
Christine Mitchell is executive director of the Center for Bioethics and senior lecturer at Harvard Medical School. She received her bachelor's and master's degrees in science from Boston University School of Nursing and a master's degree from Harvard where she majored in philosophical and religious ethics as a Kennedy Fellow in medical ethics through the Interfaculty Program at Harvard Medical School, Harvard Divinity School, and Harvard School of Public Health. She also is an ele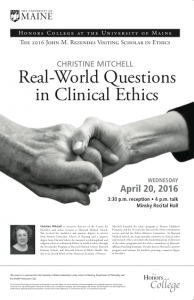 cted fellow of the American Academy of Nurses. Mitchell founded the ethics program at Boston Children's Hospital, and for 30 years has directed the ethics consultation service and led the Ethics Advisory Committee. At Harvard Medical School, she leads monthly consortia on clinical ethics and research ethics, and chairs the leadership group of directors of the ethics programs and the ethics committees at Harvard affiliated teaching hospitals. She also directs Harvard's capstone program and seminar for students pursuing a master's degree in bioethics.