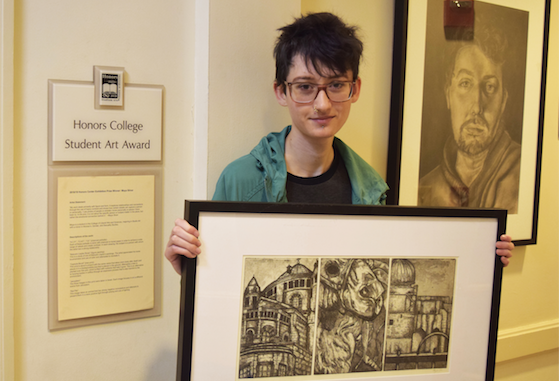 Maya Silver recognized with Honors Student Art Award
Emotional Connections could be the name of the Art Exhibit currently on display in the Honors Center Colvin Hall, and it's certainly what we want you to feel as you peruse the presentation. Our artist, Maya Silver, has told us about her work, "My work deals primarily with figure and form. It explores relationships and connections through the use of heavy contrast and shows how certain details can capture a person or personality. I use photos of people or animals I know personally or places I have been to. In the end, it is not about the specific person or subject matter in the piece, but rather the emotional connection behind it."
Maya was the winner of the 2018/19 Honors Center Exhibition Prize, which awarded her the opportunity to display her artwork this year in the Honors Center. You'll see that several of Maya's pieces have been created using Charcoal, which is one of her favorite mediums to work with. Charcoal can be difficult as it's easy to smudge and to lose detail. However, Maya uses charcoal on toned paper as a way to achieve a wide range of values and to achieve contrast in her work.
Maya, a Senior from Bangor, ME who is undertaking a BFA in Studio Art with a Women's, Gender, and Sexuality Studies minor, has expressed to us, "I've always known I wanted to do art. I did feel torn, however, between trying to decide between pursuing art and pursuing wildlife ecology or biology in the years leading up to college and during my freshman and sophomore year. After switching to wildlife ecology for a semester though, I realized studio art was more natural for me."
She is looking forward to graduating this Spring and seeing what the future holds for herself and for her craft. She would love the opportunity to travel to Europe, either for Grad School, or to simply enjoy the beauty of the experience.
To see Maya's work, please stop by Colvin Hall. Her pieces are displayed throughout the first floor.