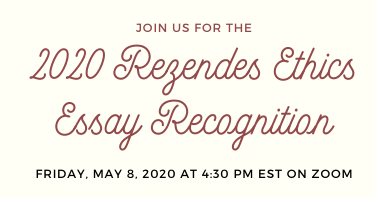 Rezendes Ethics Essay Recognition Online Event to be held May 8
The Honors College at the University of Maine will host an online recognition event at 4:30 p.m. Friday, May 8 for the 2020 John M. Rezendes Annual Ethics Essay Competition.
The competition invites undergraduate students to submit an 8- to 10-page essay that focuses on ethics, broadly construed. This year's theme was "ethics and food systems."
Ecology and environmental sciences and Honors student Patrick Hurley won with his essay titled "Zombie Fields: Ethical Concerns of Pollination in Industrial Agriculture." The finalists were political science and Honors student Dominique DiSpirito, who wrote "The Problem with Snap Judgements: A Call for Food Security Policy Based in Vulnerability-Care Ethics," and mechanical engineering student Kate Macolini, who wrote "Atoning for Gluttony: Ethical Incentives to Disenabling Concentrated Animal Feeding Operations (CAFOs)."
The event will be moderated by François Amar, dean of the Honors College. President Joan Ferrini-Mundy will give welcoming remarks and members of the Rezendes family will be in attendance at the event, which will be held on Zoom.
If you would like to attend, please email honors@maine.edu for the event's Zoom link and password.