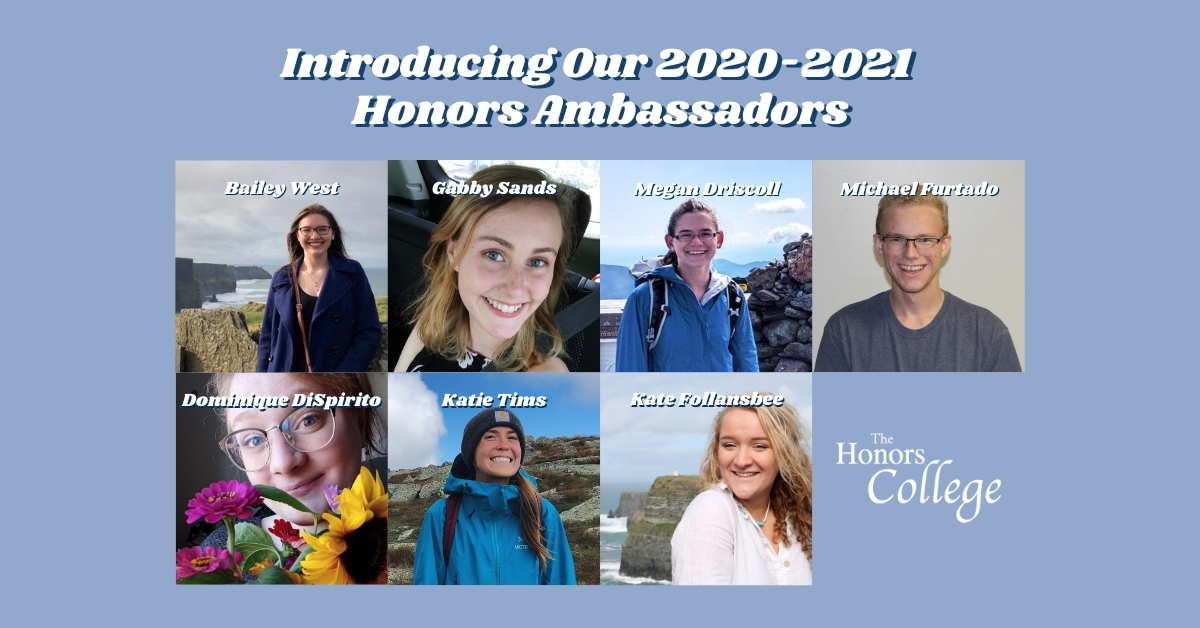 Introducing the 2020-2021 Honors Ambassadors
The Honors College is proud to introduce our 2020-2021 Honors Ambassadors!
The Ambassador program is a new Honors initiative spearheaded by Honors College Associate Dean Melissa Ladenheim. The Ambassadors are current Honors students from a variety of years and majors. They will serve as community builders and resources for prospective and current students through admissions events, student programming, one-on-one conversations, and more.
Our ambassador team members are:
Dominique DiSpirito, 3rd year political science major
Megan Driscoll, 4th year marine sciences major
Kate Follansbee, 4th year economics & communications double major
Michael Furtado, 2nd year mechanical engineering major
Gabby Sands, 4th year psychology and business administration double major
Katie Tims, 4th year biology major
Bailey West, 4th year biochemistry major
"We are excited to welcome this first team of Honors College Ambassadors—from several disciplines and with a host of international, research, sustainability, and community-engaged experiences—we look forward to working with them as part of our Honors College community," said Interim Honors College Dean Stephanie Welcomer.
Click here to read more about our Honors Ambassadors and find out how they can assist you in your Honors endeavor.