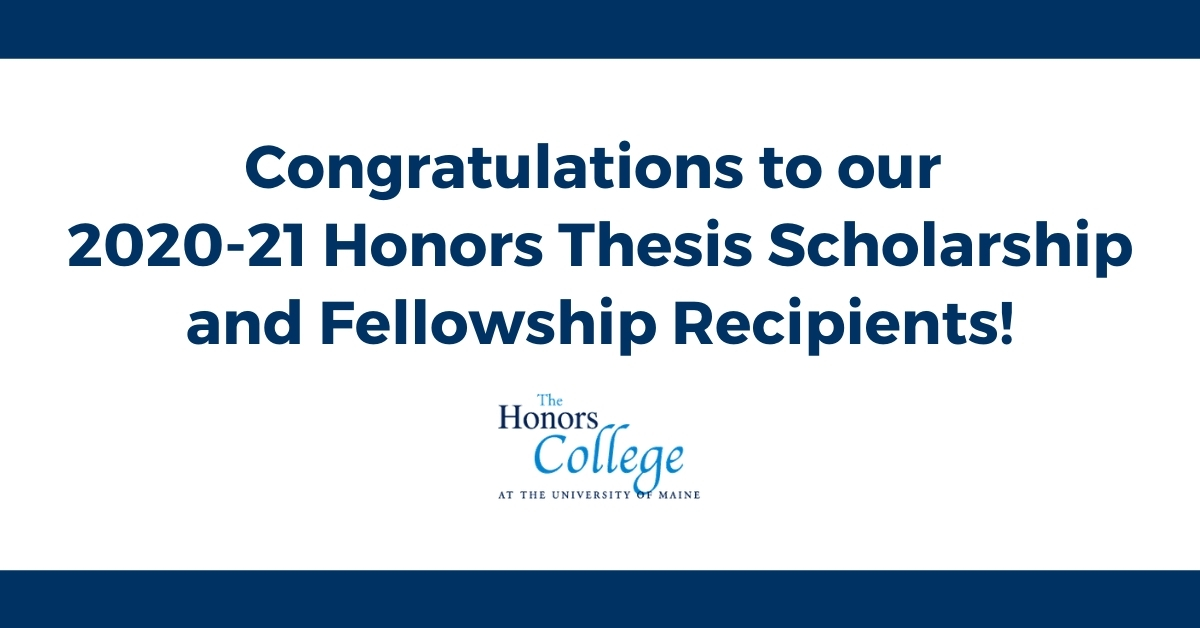 Congratulations, 2020-21 Honors Thesis Scholarship and Fellowship Recipients!
The Honors College is excited to announce our 2020-21 Honors Thesis scholarship and fellowship recipients!
Rendle A. Jones '65 and Patricia K. Jones '65 Thesis Fellowship: One award of $2000; given to a thesis student focusing their research on exploring legal service in the public arena through the history of the law or current affairs related to public health and human services, community development and conservation, or policy issues on a wide range of topics.

2020-21 Recipient: Caitlyn Rooms '21 (International Affairs; Political Science)
Thomas E. Lynch '38 Thesis Scholarship: Awards of $1500; given to Honors College students in the process of writing their theses in any discipline. Thomas E. Lynch graduated from the University of Maine in 1938 with a degree in electrical engineering, and in 1983, he was awarded the Alumni Association Career Award. His trust graciously established funds for these honors thesis fellowship awards.

2020-21 Recipients:

Caleigh Charlebois '21 (Zoology)
Ivy Flessen '21 (Political Science)
Miranda Snyder '21 (Secondary Education)
Barbara A. Ouellette Honors Thesis Fellowship: Award of $500; given to an Honors College student in the process of writing their theses in any discipline, with a preference for students with financial need.

2020-21 Recipient: Peter Berube '21 (Mechanical Engineering Technology)
Carolyn Reed Pre-Medical Honors Thesis Fellowship:

One award of $2500; offered to a student devoted to improving the world through active research and establishing an academic background that will enable them to become a world-class physician. 

2020-21 Recipient: Bailey Woodard '21 (Biology)
The staff extends its congratulations to all of our award recipients and gratitude for the supporters who make these scholarships and fellowships possible for our students.