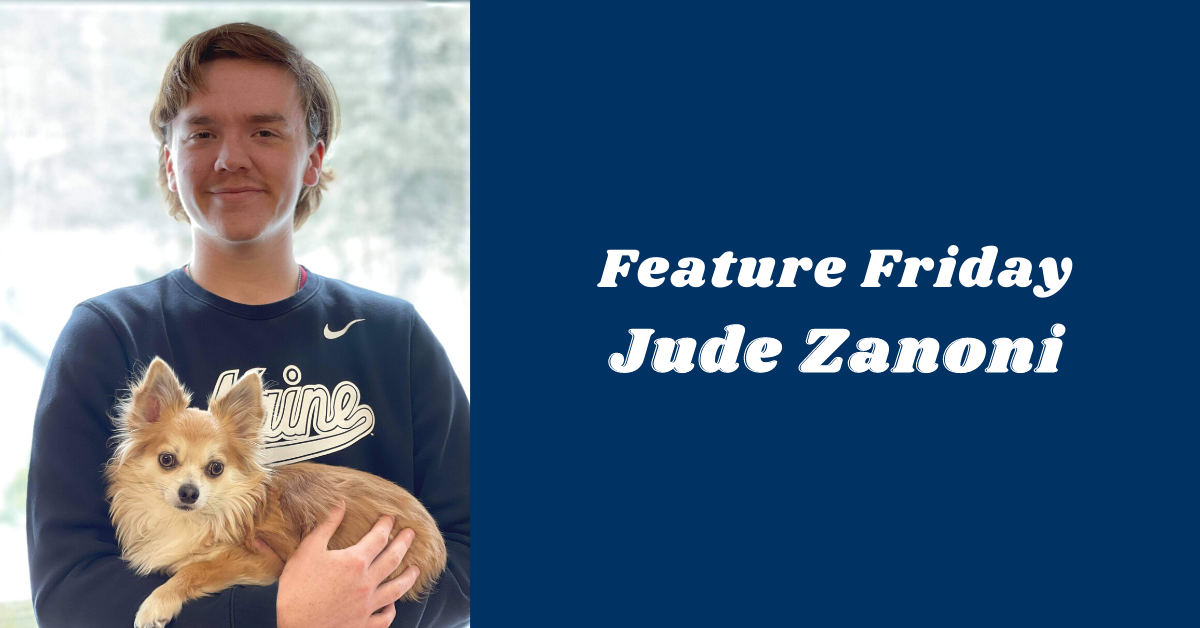 Feature Friday: Jude Zanoni '23
The Honors College's Feature Friday series highlights an Honors student every Friday and shares a little bit about their experiences in Honors and at the University of Maine.
This week, our feature is on Jude Zanoni. Jude is a second-year electrical engineering major from Lubec, Maine. He is pictured here with his dog, Amadeus, who he refers to as his "biggest supporter."
Jude noted his love for the Honors College's environment and people. "My favorite thing about Honors is the people in it. Everyone is friendly and makes you happy to be here," said Jude.
His favorite thing about UMaine is the many opportunities that the university has for engineering students. "It pushes you toward success. [For example], the engineering job fair. Every year, UMaine gets dozens of companies looking to hire engineering students for internships and co-ops. It gives us a chance to meet recruiters and get familiar with our options, as well as getting summer employment as early as freshman or sophomore year in our field," Jude described.
Jude is a part of the Maine Top Scholars Program, which funds the opportunity for him to do research alongside a faculty advisor. "I'm working on using Raspberry Pis and a virtual machine to gather data anywhere we plug the Pis in. And as far as what kind of data we can gather, we could use any kind of sensor that has a USB plug in.
The project is sort of exploratory right now but there could be endless applications. Any data from a USB device you'd want to measure and work with we'll be able to get," said Jude.