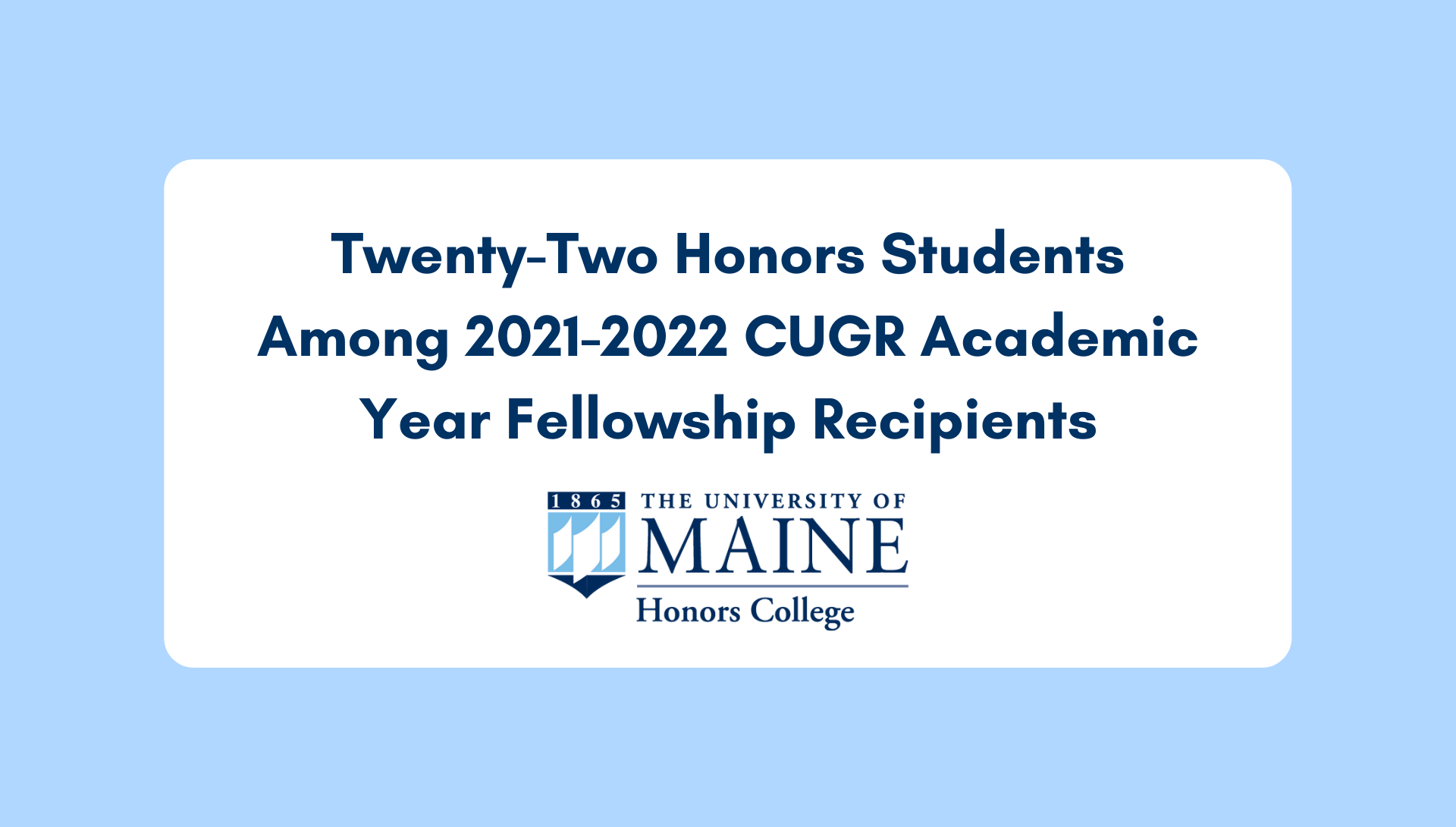 Twenty-Two Honors Students Among 2021-2022 CUGR Academic Year Fellowship Recipients
The Honors College is pleased to announce that 22 of our students are among this year's winners of the UMaine Center for Undergraduate Research (CUGR) Academic Year fellowship programs. CUGR provides several fellowship programs, including the UMaine Institute of Medicine, UMaine Artificial Intelligence, and Maine Space Grant Consortium (MSGC) fellowships, designated to support undergraduate students involved in meaningful faculty-supervised research.
These twenty-two Honors students are among this year's 75 awardees:
Alexandra Peary, Nursing, '22

"How Physical Activity Implementation Strategies Have Changed in Schools During the COVID-19 Pandemic," advised by Kelley Strout

Dominique DiSpirito, Political Science, '22

"A Study On The Future of Food Recycling Laws in Maine," advised by Robert Glover

Zoe Prats, Psychology, '22

"No More Excu-SES: It's Time to Address Class and Cognitive Function," advised by Rebecca MacAulay

Maxwell Burtis, Mechanical Engineering, '22

"The Performance Assessment of a Lighter-than-air Drone for Glacial Research in the Juneau Icefields, Alaska," advised by Wilhelm Friess

Abigail Muscat, Marine Science, '22

"Identifying Umbrella Species to Inform the Conservation of Intertidal Areas in Acadia National Park," advised by Brian Olsen

Lara Chern, Mechanical Engineering, '22

"Durability Testing of a Marine Composite Sample for Wave Energy Converters," advised by Richard Kimball

Elyeah Schweikert, Wildlife Ecology, '24

"Glacier Modeling to Represent Previous Glacier Size and Climate in the Cairngorms National Park," advised by Alice Doughty

Kelvy Zucca, Physics, '22

"Design, Construction, and Investigation of a Small Polarimeter," advised by David Batuski

John Burnell, Biochemistry, '22

"Mitochondrial Toxicity of Antimicrobial Agent Cetylpyridinium Chloride," advised by Julie Gosse

Aaron Dustin, Psychology, '22

"Mediation of the Religion-Prejudice Link," advised by Jordan LaBouff

Jon Donnelly, Computer Science, '22

"Deformable ProtoPNet: Human Interpretable Deep Learning with Spatial Invariance," advised by Chaofan Chen

Audrie French, Microbiology, '23

"Investigating Role of Bacteriophage in Black Soldier Fly Larvae Pathogen Suppression," advised by Edward Bernard

Katie Westbrook, Earth and Climate Science, '23

"Cosmogenic Isotope Analysis of Basal Sediment found in Mt. Hunter Ice Cores," advised by Karl Kreutz

Gunnar Eastman, Computer Science, '22

"Scientific Terminology Extractor (SciTex)," advised by Torsten Hahmann

Kathleen Davis, History, '25

"Mitigation or Obstruction: Investigating the Use of Development Aid in Mitigating Climate Change and Addressing Climate Migration," advised by Nicholas Micinski

Elyse Daub, Ecology and Environmental Sciences, '22

"Linking Molecular Deadwood Inhabiting Fungi to Carbon Dioxide Flux of Decomposing Coarse Woody Debris," advised by Pete Avis

Delaney Burns, Studio Art, '22

"

Thuja occidentalis

: Exploring Maine's "Tree of Life," advised by Andy Mauery

Sydney Jackson, Marine Science, '22

"Assessing Non-invasive Methods for Characterizing Marine Mammal Genetic Diversity Through Environmental DNA," advised by Kristina Cammen

Rebecca Collins, Chemistry, '22

"Catalysis of Enantioselective Chiral Phosphates," advised by Matthew Brichacek

Molly Glueck, English, '24

"Reconstructing the Romantic Legacy: Annotating the Sublime, Imagination, and Freedom through Black Studies," advised by Elizabeth Neiman

Sarah Meyer-Waldo, Mechanical Engineering, '22

"A Dance of Life: teshuvah – to turn towards one's self," advised by Samantha Jones

Basel White, Biomedical Engineering, '22

"An Exploratory Analysis on the Measurement of the Hurst Exponent through the Use of the Power Spectrum and 2D WTMM Methodology on Monofractal and Multifractal Images," advised by Andre Khalil
Congratulations to these fantastic students on receiving this generous award to help fund their research. Click here to view the full list of awardees on the CUGR website.