Honors College Awards First INBRE Fellowships
Honors College Awards First INBRE Fellowships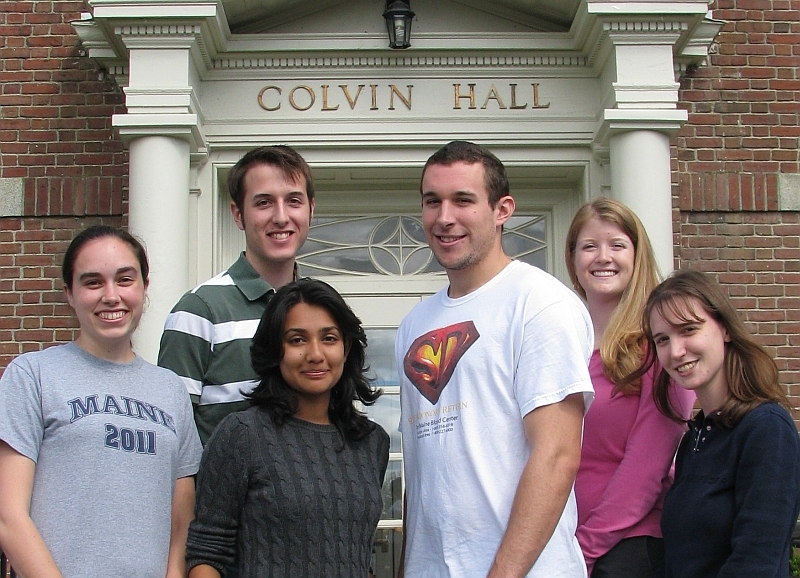 ORONO, Maine – Six University of Maine Honors College students recently were awarded the first round of Maine IDeA Networks of Biomedical Research Excellence (INBRE) fellowships to support their thesis research.
The students, all members of the class of 2010, will receive fellowships of $2,500, and their thesis advisors will receive $1,000 to support the students' research.  All students who graduate from the Honors College write a thesis, and this support will enable these students to direct more of their energy toward this endeavor.
The goal of INBRE is to strengthen Maine's capacity to conduct National Institutes of Health (NIH)-competitive biomedical research. Maine's INBRE provides research support and core facilities to junior faculty, creates research and training opportunities for undergraduate and graduate students, and serves as a pipeline for students to pursue health research careers and enhance the scientific and technical knowledge of Maine's workforce.
A faculty committee chaired by Professor of Biochemistry and Molecular Biology Keith Hutchison and including Assistant Professor of Chemical and Biological Engineering Michael Mason, Professor of Biochemistry and Molecular Biology Mary Rumpho-Kennedy, and Assistant Professor of Microbiology Robert Wheeler made the awards.
"The committee considered the strength of the students' proposals and their fundamental relationship to the area of functional genomics" writes Hutchison.  "That we were able to fill all six slots in this inaugural year is a testament to both the wide spread interest in genomics and the quality of students within the Honors College.
"We have high hopes that this initiative will flourish during the five year term of the grant," says Charlie Slavin, dean of UMaine's Honors College.
The recipients are:
Erin Brunk of Carmel, Indiana
Zoology
Advised by Sharon Ashworth
The Role of Cfl1l in Zebrafish Embryonic Development and Kidney Function
Ankita Chowdhury of Haryana, India
Molecular & Cellular Biology
Advised by Rob Wheeler
Engineering Ovalbumin-expressing Candida albicans
Christopher Demers of South Berwick, Maine
Biological Engineering
Advised by Rosemary Smith
Combinatorial Cell Microenvironment Generator
Rebecca Dyer of Yarmouth, Maine
Biology
Advised by Harold "Dusty" Dowse
Identification of the Melatonin Receptor in Drosophila melanogaster
Katherine Nadeau of Glenburn, Maine
Biology
Advised by Clarissa Henry
Matrix Metalloproteinase Expression and Localization in the Model Organism Danio rerio
Ryan Whipkey of Milford, Maine
Chemistry, Molecular & Cellular Biology, and Biochemistry
Advised by Touradj Solouki
Ovarian Cancer Biomarker Discovery: Fourier Transform Ion Cyclotron Resonance Mass Spectrometry Based Metabolomics/Proteomics Investigations of Exhaled Breath Condensate and Biofluids
Maine INBRE is an National Center for Research Resources/National Institutes of Health supported network of 13 Maine institutions including Mount Desert Island Biological Laboratory (lead institution), The Jackson Laboratory and The University of Maine (research institutions), Bates College, Bowdoin College, Colby College, College of the Atlantic, Southern Maine Community College, The University of Maine Honors College, The University of Maine at Farmington and The University of Maine at Machias. Maine INBRE outreach institutions include The University of Maine at Fort Kent and The University of Maine at Presque Isle.