In Memoriam Dennis Rezendes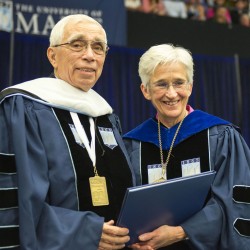 In Memoriam Dennis Rezendes
The University of Maine Honors College community is saddened to learn of the passing of Dennis Rezendes '57, supporter, friend, and benefactor. Dennis Rezendes was well known on and off campus for his kindness, generosity, and eagerness to support students in their endeavors. With his wife, Beau, he shared a lifelong commitment to public service, engaged citizenship, ethical responsibility, and the arts as foundations for our society.
Dennis Rezendes grew up in Fall River, Massachusetts and spent 6 years in the United States Air Force before earning his Bachelor's degree at the University of Maine. He went on to earn a Masters of Government Administration at the prestigious Wharton School of Business and Finance at the University of Pennsylvania. His education was followed by a distinguished career in government service, business, finance, and education, culminating in the development of Hospice in the 1970s. In May, 2015, he was awarded an honorary doctorate of humane letters by his alma mater in recognition of his work to create and propel the Hospice movement in the United States.
Nowhere else is his commitment to service better exemplified than in this mission to revolutionize end of life care. Dennis Rezendes was one of the most important figures in the effort to transform how this country takes care of its terminal patients, establishing a practice that has improved the quality of care for millions of people and their families.
As a 1957 alumnus of the University of Maine, he continually returned to this community to become a powerful presence in its development. He was a role model for students in his support for ethics, global citizenship, and the arts in his creation of programs like the John M. Rezendes Ethics Essay contest and the John M. Rezendes Visiting Scholar in Ethics lecture, both named after his father. The positions of Rezendes Preceptor of the Arts and Rezendes Preceptor of Civic Engagement were made possible through his generosity and have had a transformative effect on the Honors College at the University of Maine.
Dennis M. Rezendes' legacy is one that we in the Honors community and beyond will continue to cherish in the generations to come.
For more information, please see this link.