Honors staff win Awards
Associate Dean Melissa Ladenheim is the recipient of The Bodwell Center for Service and Volunteerism's 2016 Dean Lucy Award, which is described below.
The Dean Lucy Award was created to recognize a faculty or staff member who has gone out of his/her way in service to the University of Maine community and surrounding area. This recipient should also encourage and support student community service.
---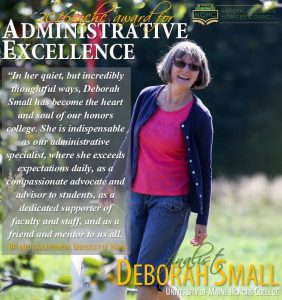 Administrative Specialist, Deborah Small was a runner up in the National Collegiate Honors Council's Award for Administrative Excellence.