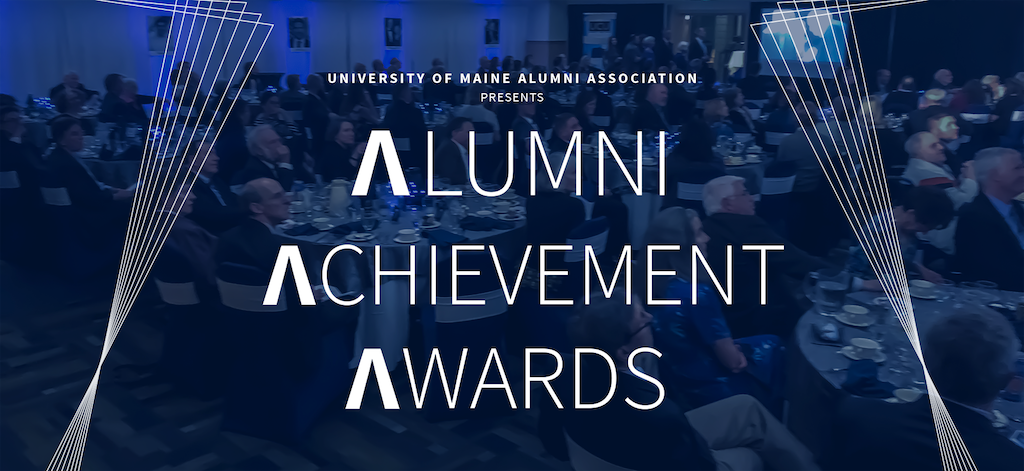 2019 Alumni Achievement Awards
On April 5th, 2019, The University of Maine Alumni Association presented the 2019 Alumni Achievement Awards. Of the awards winners, we are proud to recognize the three winners who came from the Honors College!
Paige Eggleston '13 and Nate Wildes '12 both received a Rising Star Award. This award recognizes an individual who, in the years immediately following his or her UMaine graduation, has demonstrated outstanding commitment to advancing the strength and success of the Alumni Association, his or her alumni class, alumni chapter, and/or Alumni Interest Group.
Eggleston had worked for five years at U.S. Senator Susan M. Collin's Bangor and Washington D.C. offices, been the advisor for All Maine Women, and is currently enrolled at the University of Maine School of Law.
Wildes had spent over three years working in Cincinnati before returning to Maine. Since moving back to Maine, he has co-founded Flight Deck Brewing Company in Brunswick, and is currently now working as executive director of Live + Work in Maine.
Abtin Mehdizadegan '10 was awarded the Spirit of Maine Achievement Award. The Alumni Association's Spirit of Maine Achievement Award is given to an alumnus/alumna who has graduated in the last fifteen years and who has achieved outstanding professional, scholarly, public, and/or entrepreneurial success.
Mehdizadegan is currently an attorney and the youngest partner in the history of the law firm of Cross, Guner, Witherspoon & Galchus in Little Rock, Arkansas. Since graduating, he has achieved success in the field of employment law and contributed to the betterment of his community.
More information on these and other winners can be found at: https://www.umainealumni.com/alumni-achievement-awards/