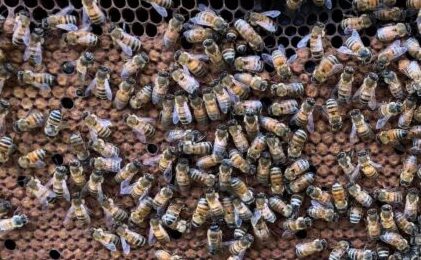 Honors Student Patrick Hurley Presents at Maine State Beekeepers Association Annual Meeting
Fourth-year Honors student Patrick Hurley spoke at the Maine State Beekeepers Association Annual Meeting this past weekend with a presentation titled "Mites, Camera, Action: A New Approach to Old Mite Treatments." Two other students also presented at the meeting: Henry Laurita of UMaine with "Patch, Pattern, and Preference: Understanding Foraging Behavior," and Adele Wise of College of the Atlantic with "Bees Aren't The Only Workers: A Labor Needs Assessment for Beekeeping."
This past summer, Patrick was awarded a Sweet Spot Fellowship through the Sustainable Food Systems Research Collaborative (SFSRC).
Sweet Spot is an interdisciplinary collaborative team of social and natural scientists from the University of Maine and College of the Atlantic working on a project called: "Finding the Sweet Spot: Scale Challenges and Opportunities for Beekeeping and Maple Syrup Production in Maine." Through research, education and extension activities, this project intends to better understand the production and marketing challenges and opportunities for small- and medium-scale beekeepers and maple syrup producers in Maine. This project was funded by the United States Department of Agriculture National Institute of Food and Agriculture (USDA-NIFA) under award number 2007-69006-26573.
Patrick is currently working on his Honors thesis, analyzing varroa mite IPM for beekeepers in Maine. His advisor is Dr. Julia McGuire, who is an Honors College alumna herself, having graduated in 2006 with her Honors thesis titled "The Public Policy Implications of Environmental Education."
Patrick's work is a great example of stakeholder participation and knowledge with action that is at the heart of many of our research collaboratives. Congrats Patrick!