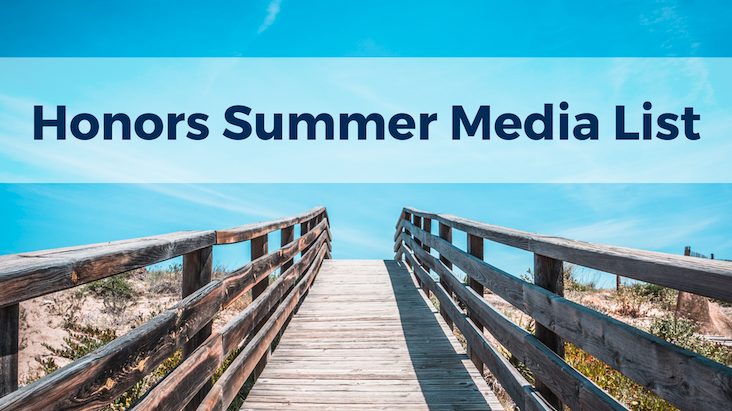 Honors Staff Summer Media Recommendation List
As multiple members of the Honors staff approach a summer break off-contract during July, we wanted to share with you an Honors staff-recommended summer media list. These are the things we have been reading, watching, and listening to…and we thought you might like them too!
---
Read
Fast Food Nation by Eric Schlosser, recommended by Kim


"Schlosser provides a disturbing and enlightening look into the making of the all-American fast food meal. It's a must-read for anyone interested in the industrial food system."

Stamped From the Beginning by Ibram X. Kendi, recommended by François


"It's long but really changes one's thinking."

The Outlander series by Diana Gabaldon, recommended by Kristin
"I'm reading this series by requesting the e-books from my local library. They are long books, which is nice in this time of social distancing, and it's great to learn about some Scottish history! The series has a touch of magic and a wonderful romantic story as well."
How to Be An Antiracist by Ibram X. Kendi, recommended by Melissa
"This is on my summer reading list."
The New York Times' Morning Briefing, recommended by Katie
"I've really appreciated the New York Times daily briefing, sent directly to my inbox each morning this summer. It's just the right mix of staying informed while not getting too weighed down with information overload."
---
Watch
Fresh Off the Boat, recommended by Kim
"This show is about a Taiwanese-American family living in 1990s Florida. It is wholesome and full of heart, humor, and cultural representation."
Somebody Feed Phil, recommended by Cara
"This is my absolute favorite travel and food show – the host's excitement for life and friendly nature are so uplifting and the show is a great fix for wanderlust while we are all spending more time at home."
The Plot Against America, recommended by François
"I strongly recommend this mini-series based on the novel by Philip Roth. Great script, acting, and direction."
After Life, recommended by Melissa
"This is a funny and poignant show about love and loss, and about relationships across the spectrum from romantic to parent/child to extended family to co-workers. Created by and starring Ricky Gervais."
The Great British Bake-Off, recommended by Kristin
"A feel-good show, set in the hills of England. All of the bakers cook outside in a beautiful white tent. They are so kind to each other, which is a nice shift from most cooking competition shows. I've actually started trying some of the recipes showcased in the episodes!"
---
Listen
Natch Beaut, recommended by Cara
"This podcast is about all things self-care, beauty, and empowerment, with a hilarious host named Jackie who feels like she is one of your best friends."
The Practice of Love by Jenny Hval, recommended by Stephanie
"I'm not sure exactly how I started listening to Hval's work but probably it was a KEXP find. It has been a constant for me for several months, and it's a joy-bringer."
Tower of Silence by Roberto Musci, recommended by Stephanie
"In the 70's and 80's, Musci, drawn towards rhythms and sounds of non-western music, recorded indigenous music of India, Asia and Africa and then folded them into an electronic music mix. Sublime and transporting."
Debussy Rameau by Víkingur Ólafsson, recommended by Stephanie
"For many years I have been moved and constantly upended by Debussy's piano music. The New Yorker's Alex Ross wrote about the first song on this album, "La Damoiselle Élue," is among his first fully characteristic works, opening a door to a landscape of unearthly radiance."
Nina Simone, recommended by Katie
"I've really been into early Black female jazz musicians, in particular Nina Simone, who also used her music to support social activism during the civil rights movement. Check out the song 'I Wish I Knew How it Would Feel to be Free.'"
---
From all of us in Honors, we wish you a happy and healthy summer!