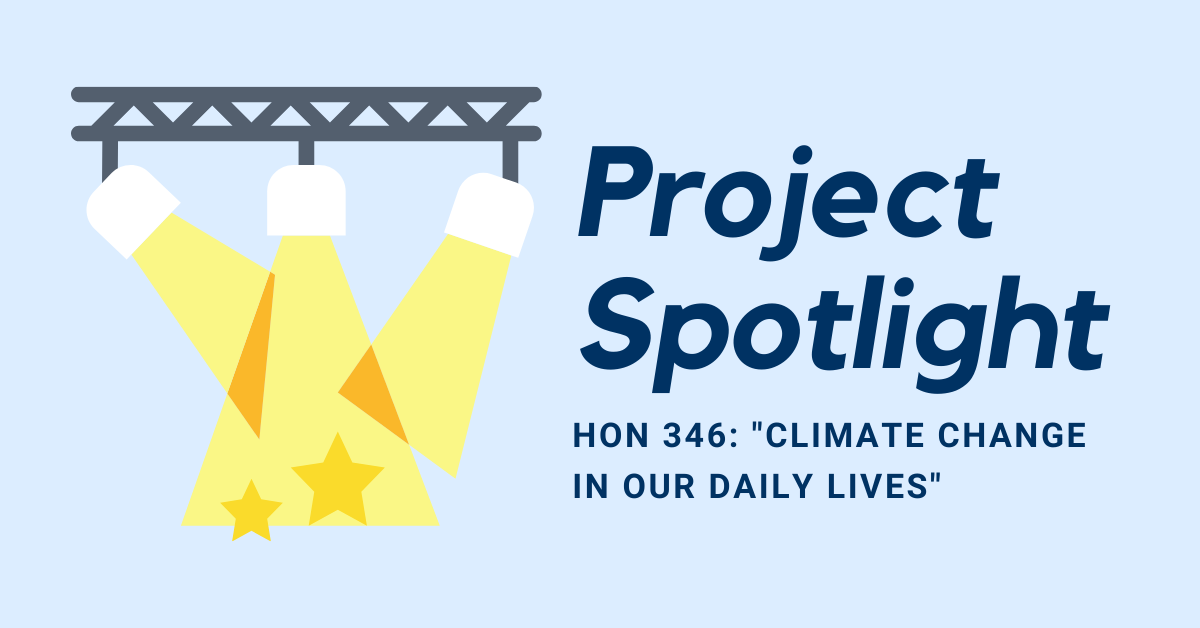 Project Spotlight: Celebrating Honors Student Work from "Climate Change in our Daily Lives"
Project Spotlight is a new monthly series dedicated to sharing outstanding Honors projects, both in and out of the classroom. This month, we are celebrating student work from the Fall 2020 Honors Tutorial "Climate Change in Our Daily Lives," taught by Professor Lydia Horne.
The United Nations describes climate change as the defining issue of our time, saying that we are at a critical moment when it comes to deciding how humanity will respond. Despite this urgency, climate change remains a global phenomenon, psychologically distant for many, making it difficult to conceptualize and act upon.
In "Climate Change in our Daily Lives," we explored how climate change intersects with our day-to-day activities in "hidden" ways while also discussing mitigation strategies and climate friendly actions and how these solutions are communicated to the public. By looking at human consumption, waste production, systems interactions, we were able to focus on understanding the root causes of problem, solutions (either in place or theoretical), and examine communication strategies that can spread awareness of these issue. As part of this course, students chose a climate change issue that particularly interested them and were able to design a project in a creative medium of their choice to communicate this issue to a general audience.
Read on to explore some of the outstanding student work from this Honors Tutorial.
---
Ailin Liebler-Bendix '22 (Psychology Major with Minors in Pre-Medical Studies and Spanish)
For this project, I wanted to draw upon my passion for activism via poetry focused on climate justice. Poetry has always been a type of writing that is incredibly special to me, and is a medium that I believe can communicate in deep, powerful ways. For this set of poems, I wanted to focus on drawing attention to the idea that climate change has been and still is disproportionately affecting populations of color, which is something that I've found to be overlooked. This project is a combination of my written poetry, paired with photographs taken by outside photographers.
View Ailin's poetry project here.
---
Ally Ryan '22 (Biology Major with Pre-Med Concentration)
Dance is something I have always been extremely passionate about, so I decided to use this creative outlet as a way to discuss an aspect of climate change that I felt would be accessible and impactful to any audience. My good friend Nicholas Powers was kind enough to play the role of Earth, alongside myself (an average human), and our goal was to encourage a working partnership between Earth and Humankind. Individual action will not solve the climate crisis, but it is one of the first steps that can be taken in the right direction, and this video was made to encourage that!
---
William L. Somes '21 (Political Science and Economics Double Major)
In this project, I wanted to show how easy it is to make healthy choices for the planet. Within the food industry, beef production accounts for more greenhouse gas emissions than the production of any other type of food. If we just cut our consumption of beef in half, we could significantly lower our carbon footprints.
---
Thank you to Ailin, Ally, and Will for allowing us to share their excellent work!