John M. Rezendes Ethics Initiative
Thanks to an extremely generous gift from Dennis and Beau Rezendes, each year the University is able to host the John M. Rezendes Visiting Scholar in Ethics and to offer the John M. Rezendes Ethics Essay Competition. For the first three years of this initiative, it was administered by the Department of Philosophy. Coinciding with the inauguration of the Honors College, the initiative was relocated here for the 2002-03 academic year. We are exceedingly grateful to Beau and Dennis Rezendes for their generosity which enables us to bring these visitors to the University of Maine and provide these opportunities for all students at the University.
---
The John M. Rezendes Visiting Scholar in Ethics
The Visiting Scholar in Ethics is a scholar who can address ethical issues of national importance. During her/his stay, the visitor is asked to conduct a seminar with selected Honors College students, conduct a seminar with selected students in a department or college related to the visitor's field of interest, and present the John M. Rezendes Ethics Lecture to the University community and the public.
---
Past Rezendes Ethics Lectures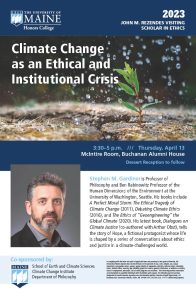 2022-23
Stephen M. Gardiner
Professor of Philosophy and Ben Rabinowitz Professor of the Human Dimensions of the Environment at the University of Washington, Seattle.
"Climate Change as an Ethical and Institutional Crisis"
April 13, 2023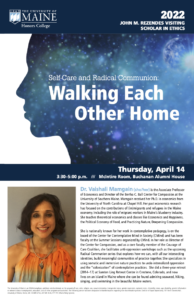 2021-22
Vaishali Mamgain
Director of the Bertha C. Ball Center for Compassion, Associate Professor in Economics at USM
"Self-Care and Radical Communion: Walking Each Other Home"
April 14, 2022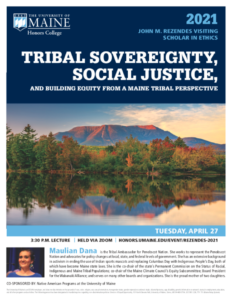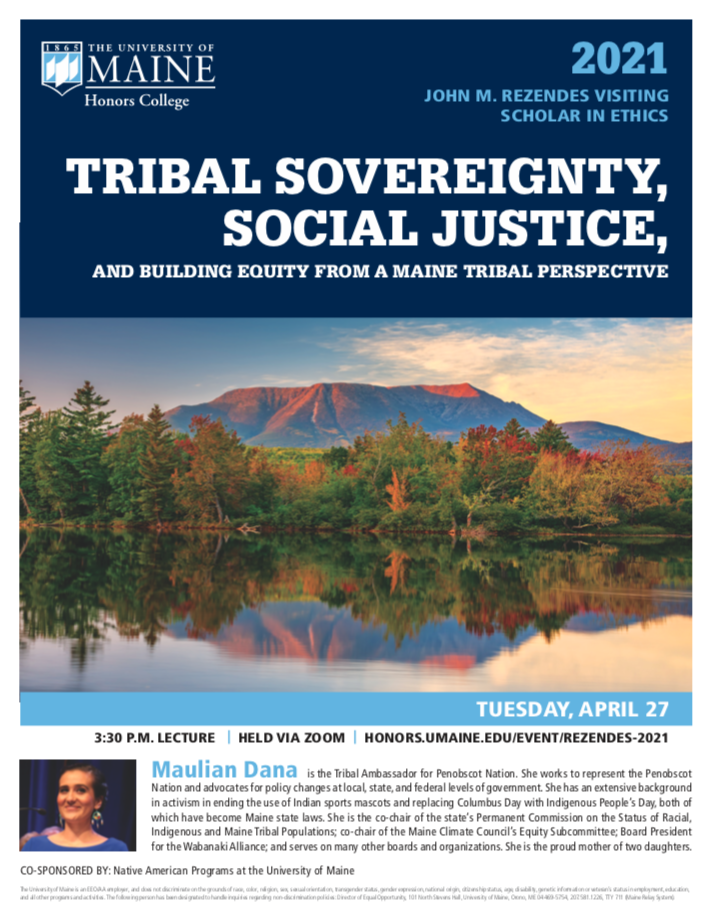 2020-2021
Maulian Dana
Tribal Ambassador for Penobscot Nation
"Tribal Sovereignty, Social Justice, and Building Equity from a Maine Tribal Perspective"
April 27, 2021

2018-2019
Sally Curran
Executive Director of the Volunteer Lawyers Project of Onondaga County, Inc.
"Advocating for Justice: Lawyers' Roles in Social Change"
April 17, 2019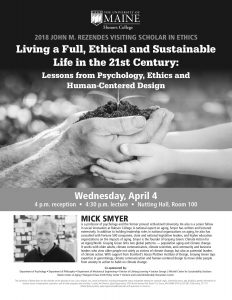 2017-2018
Mick Smyer
Professor of Psychology at Bucknell University
(4 April 2018)
2016-2017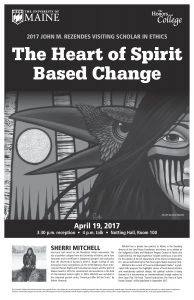 Sherri Mitchell

Lawyer and activist for indigenous rights. Founder of the Land Peace Foundation.
(19 April 2017)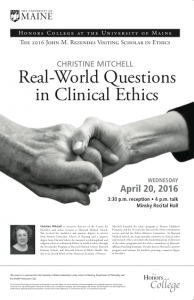 2015-2016
Christine Mitchell
Executive Director of the Center for Bioethics and Senior Lecturer at Harvard Medical School
(20 April 2016)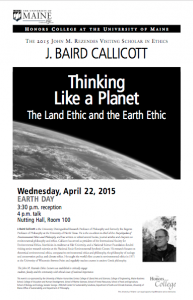 2014-2015
J. Baird Callicott
University Distinguished Research Professor of Philosophy at the University of North Texas. Co-editor-in-chief of the Encyclopedia of Environmental Ethics and Philosophy.
(22 April 2015)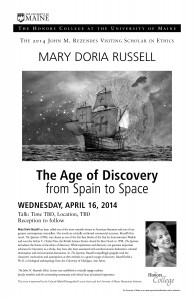 2013-2014
Mary Doria Russell
Author of The Sparrow, 2013 Honors Read
The Age of Discovery from Spain to Space
(16 April 2014)
2012-13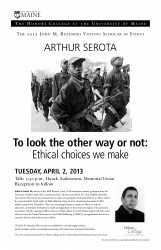 Arthur Serota '66
Co-Founder and CEO of the United Movement to End Child Soldiering
To Look the Other Way or Not: Ethical Choices We Make
(2 April 2013)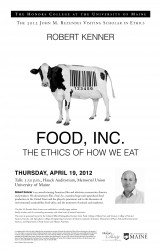 2011-12
Robert Kenner
Award-winning filmmaker
Food Inc. The Ethics of How We Eat
(19 April 2012)
2009-10
Dick Hill
Professor Emeritus of Mechanical Engineering
Good v. Evil: A Bag of Scary Mush
(21 April 2010)
2008-09
Robert Shetterly, Creator of the Americans Who Tell the Truth series of portraits
The Ethic of Collateral Damage
(24 April 2009)
2007-08
Dr. Bernard Lown '42, Recipient of the 1985 Nobel Peace Prize
On Global Activism in an Ailing World
(26 March 2008)
2006-07
Christopher Hedges, Pulitzer Prize winning journalist and author
War is a Force that Gives Us Meaning
(3 April 2007)
2005-06
Lily Yeh, Professor of Art and Art History at the University of the Arts, Philadelphia
Beauty, Ethics, and Community Building
(19 April 2006)
2004-05
Dr. Eric Meslin, Director of the Indiana University Center for Bioethics
Lessons from Dolly, Stem Cells and Biobanking
(18 April 2005)
2003-04
Professor Lijun Yuan, Texas State University – San Marcos
The Ethics of Care and Social Policies: A Dialogue on Gender Across China and the U.S.
(22 April 2004)
2002-03
Professor Sut Jhally, University of Massachusetts, Amherst
Peace, Propaganda and the Promised Land: News Bias in the Israeli/Palestinian Crisis
(10 April 2003)
---
The John M. Rezendes Ethics Essay Competition
The Ethics Essay Competition began as an opportunity for undergraduate students to compose an essay on the theme of "Ethics in the Public Domain." Starting in 2010, students are asked to address a theme related to the topic of the Rezendes Lecture. The essays should describe a problem and the ethical issues at stake, presenting a carefully reasoned and informed argument about how the problem should be approached and resolved while responding to serious objections that might be offered to the author's point of view. The submissions are judged by a panel of faculty members from the University, and the winning essayist is presented with a cash award and an original engraved sculpture. For more information about entering the competition, click here.
Links are to PDF versions of the winning essays.
2023
Theme: Climate Justice: Our Ethical Responsibilities Towards Our Planet
George Horvat (Chemistry)
The Ethics of Artisanal Cobalt Mining for Green Technologies
2022
Theme: The Ethics of Self Care
Elaine Thomas (Business Management)
When We Cannot Care for Ourselves: Ethics, Independence, and the Moral Danger of the Self Care Message
2021
Theme: Deconstructing Systems of Oppression
Stephanie Tillotson (Spanish)
"One Vision, One Language": Deconstructing Systemic Language Discrimination in the United States and an Ethical Perspective on the English Only Movement
2020
Theme: Ethics and Food Systems
Pat Hurley (Ecology and Environmental Sciences)
Zombie Fields: Ethical Concerns of Pollination in Industrial Agriculture
2019
Theme: Advocacy and Accountability
Meghan Frisard (Women's, Gender, and Sexuality Studies and Zoology)
Help, I'm Trapped: Ethical Patient Advocacy in the Age of TRAP Laws
2018
Theme: Age and Aging
Rachel Emerich (Nursing)
Our Ethical Responsibility for Preventing Elder Abuse and Caring for those Affected
2017
Theme: Citizenship, Conflict and Democracy
Sarah Dean (International Affairs)
Ningún Ser Humano Es Ilegal: The Ethical Implications of the Deportation of Undocumented Immigrants
2016
Theme: Bioethics
Connor Smart (Accounting & Finance)
Using Utilitarian Theory to Improve Our Food System, Our Planet, and Ourselves
2015
Theme: Impacting Nature: The Ethics of Energy, Ecology and the Environment
John William Mukose (Chemical Engineering)
The Ethics of Using Indoor Residual Spraying of DDT to Control Malaria in Uganda
2014
Theme: The Ethics of Discovery
Kate Spies (English)
Voices: Morally Addressing the Conflict in the DRC Through Kantian Ethics
2013
Theme: The Ethics of Globalization
Gwen Beacham (Molecular and Cellular Biology)
The Ethics of the United States' Clinical Trials in India
2012
Theme: Ethics & Food
Katie Brochu (Philosophy and Psychology)
Golden Rice: A Genetically Modified Solution to Global Malnutrition and Vitamin-A Deficiency through the Biosynthesizing of Beta-Carotene
2011
Theme: Ethics & Business
Andrew Tomes (Botany and English)
Mapping the Moral Geography: Indigenous Rights and Pharmaceutical Exploration
2010
Theme: Ethics & Technology
Andrea Gammon '10 (Biology and Philosophy)
Google's Panopticon
2009
Samuel Tate '09 (Journalism)
The Ethics of Direct to Consumer Marketing of Prescription Drugs
2008
Seth Toothaker '11 (Food Sciences and Human Nutrition)
Free from the Cave: From Cruelty to Compassion
2007
Ashley E. Schumacher '08 (Women's Studies and Nursing)
Mandatory Report of Intimate Partner Violence Injuries by Health Care Professionals: An Ethical Dilemma for Nurses
2006
Anne Mathieson '06 (Philosophy)
The Language of Social Relations and Exploring Truth Therein
2005
Dylan Montgomery '07 (Chemistry)
A State of Equality: The Legislation of Same-Sex Marriage in Maine
2004
Aimee Hoffmann (Business)
The Beauty Ideal: Unveiling Harmful Effects of Media Exposure to Children
2003
John Bell '07 (New Media)
Legalization of Physician Assisted Suicide
2002
Hunter Tzovarras '02 (Philosophy)
Why We Ought Not to Execute Criminals
2001
Nicholas Robertson '03 (Philosophy)
Wittgenstein, Education, and the Value of Literature
---