The John M. Rezendes Annual Ethics Essay Competition
All current undergraduate students at the University of Maine are invited to submit an 8- to 10-page essay that focuses on ethics, broadly construed. Papers on any topic of ethical concern are welcome, but see below for suggested focus. Please view other requirements and guidelines below.
Awards
First Prize: $3,200
Two Finalists: $500
2022-23 Theme: Climate Justice: Our Ethical Responsibilities Towards Our Planet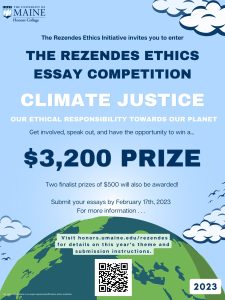 We encourage you to consider some of the challenging ethical issues surrounding Climate Justice.
Sample questions might include, but are not limited to: How are responsible behaviors towards our planet a global moral imperative (the personal and social responsibility of an individual or of a broader society)? How are different groups of people (especially low-income communities and communities of color around the world) affected differently by climate change? Do different countries and different groups of people around the world have different responsibilities toward climate change, and If so, in what ways? What climate responsibilities do current generations have to future generations? How can traditions like the indigenous "kincentric" notion of ecology or the Jewish commitment to repairing our world (tikkun olam) inform our ethical response to climate change? What can ecofeminism teach us about justice with respect to our planet and one another? These questions are merely examples of how you might begin to approach the topic. Feel free to venture out and come up with your own questions, constructing essays according to the following guidelines:
Identify and describe a problem, along with the ethical issue at stake

Present an argument that shows how the ethical issue should be resolved.

Engage with an ethical theory to reach your resolution (for example, animal rights theory, social contract theory, bioethics, environmentalism, utilitarianism, Kantian ethics, virtue ethics or feminist ethics)

Respond to prospective objections to your point of view
Winning approaches from past years include:
2023 – Theme: Climate Justice: Our Ethical Responsibilities Towards Our Planet
George Horvat (Chemistry)
The Ethics of Artisanal Cobalt Mining for Green Technologies
2022 – Theme: The Ethics of Self Care
Elaine Thomas (Business Administration in Management)
When We Cannot Care for Ourselves:Ethics, Interdependence, and the Moral Danger of the Self-Care Message
2021 – Theme: Deconstructing Systems of Oppression
Stephanie Tillotson (Spanish)
"One Vision, One Language": Deconstructing Systemic Language Discrimination in the United States and an Ethical Perspective on the English Only Movement
2020 – Theme: Ethics and Food Systems
Patrick Hurley (Ecology and Environmental Science)
"Zombie Fields: Ethical Concerns of Pollination in Industrial Agriculture"

2019 – Theme: Advocacy and Accountability
Meghan Frisard (Women's, Gender, and Sexuality Studies and Zoology)
"Help, I'm Trapped: Ethical Patient Advocacy in the Age of TRAP Laws"
Click here for further winning essay examples!
Eligibility
Any paper related to issues in ethics will be considered. All undergraduate students at the University of Maine registered during the spring semester in which the contest is held are eligible, including those who will be studying abroad.
2022-23 Rezendes Ethics Essay Competition Timeline
Monday, December 5 12:00 PM: 401 Colvin Hall
– Preliminary info-session/ethics workshop, Pizza
Friday, February 3 12:00 PM: 401 Colvin Hall
– Focused workshop on paper-writing, ethics and questions from prospective essay writers.
Friday, February 17: 11:59pm submission deadline
Friday, March 24: Finalists' essays due.
March 27-March 31: Early week: 20-minute interviews with finalists.
April 10-14: Tentative Rezendes Lecture date and public announcement of winners.
Submission Guidelines
Essays must be submitted electronically by Friday, February 17th, 2023 at 11:59 PM EST.
No late submissions will be accepted.
No works of poetry or fiction will be accepted.
The following format must be used:

Submissions must be typewritten in 12 pt font, double spaced with one-inch margins saved in .doc or .docx format.

Submissions must be 8-10 pages

maximum

.

Note – reference and cover pages do not count towards the 8-10 page maximum

Submissions must include a reference page and proper in-text source documentation (MLA, APA or Chicago styles)
Only the title of the essay, and not the author's name, should appear on the first page of the essay itself.
The first page of the document must be a cover page with the author's name, title of the essay, local address and phone number, email address, year in school and major.

Submissions will not be returned.
No student may win the first prize more than once.
Additional Information