Undergraduate Research in Comparative Functional Genomics (INBRE)

The Maine IDeA Network for Biomedical Research Excellence (INBRE) is a National Institute of General Medical Sciences of the National Institutes of Health supported network of thirteen Maine institutions including Mount Desert Island Biological Laboratory (MDIBL), the University of Maine, and the Honors College at the University of Maine.
The overall goal of the Maine INBRE is to strengthen Maine's capacity to conduct NIH-competitive biomedical research. Maine INBRE provides research support and core facilities to junior faculty, creates research and training opportunities for undergraduate and graduate students, and serves as a pipeline for students to pursue health research careers and enhance the scientific and technological knowledge of Maine's workforce.
Through the INBRE grant, the Honors College is able to provide our student with these outstanding opportunities for research in comparative functional genomics: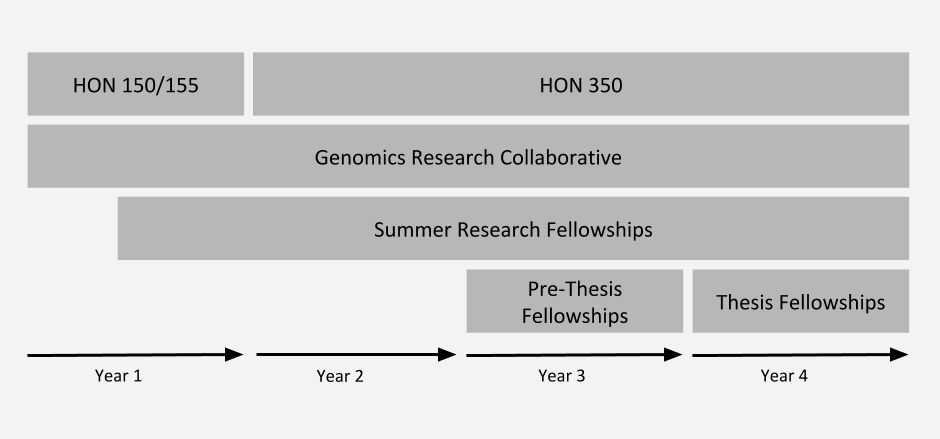 ---
"Maine INBRE is a critical component in building the state's research capacity, including training tomorrow's biomedical workforce. The opportunities this initiative has provided undergraduate and graduate students and faculty at UMaine and UMM demonstrate the value of statewide partnership and what we can accomplish, together, to make a difference in biomedical research and education in the state and beyond." [source]

Joan Ferrini-Mundy, Ph.D., President, University of Maine and UMM
With regard to "comparative functional genomics" this is not necessarily as exclusive as it sounds.  Studies of model organisms allows us to learn about molecular mechanisms that are often conserved with humans.  In addition, genomics currently includes all the "-omics", transcriptomics, proteomics, metabolomics, phenomics, since they all tie back to the genome.  However, functional genomics extends well beyond that, spanning the biological, physical and computational sciences and engineering.  Therefore, Honors projects that would involve research on development of new computational tools for handling biological data would fit this limitation.  Other examples include the research on the development of new analytical tools, e.g. more sensitive devices or smaller devices particularly if there is an obvious human health application.
"INBRE gives Maine's students the ability to engage in biomedical research through the sharing of research resources and expertise among research and educational institutions in the state. We're thrilled to be able to offer this opportunity to UMaine Honors College's outstanding students."

Patricia H. Hand, Ph.D., Founder of Maine INBRE, MDI Biological Laboratory
---
For more information about scientific aspects of Undergraduate Research in Functional Genomics in the Honors College, contact:
Dr. Sally Dixon Molloy
Molecular and Biomedical Sciences and Honors
207.581.2818
sally.dixon@maine.edu
For more information about the administration of Undergraduate Research in Functional Genomics in the Honors College, contact:
Dean Ellen Weinauer
Honors College
207.581.3263
honors@maine.edu