TIAA Distinguished Honors Graduate Lecture
Annually since 2002, the Honors College at the University of Maine has endeavored to host a distinguished Honors graduate for a several day visit. The visit typically includes in- and out-of-class conversations with members of the Honors community as well as other interested students and faculty. The Distinguished Honors Graduate Lecture is the campus-wide highlight of their visit.  Between 2002 and 2008, this initiative was sponsored by TIAA, which returned as a sponsor in 2015.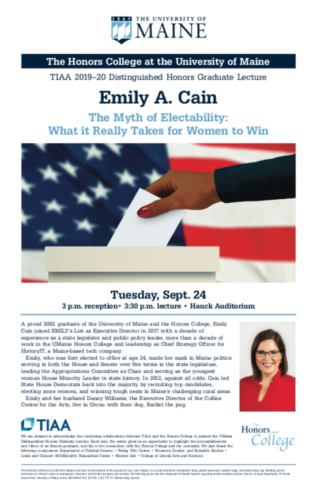 2019-20 TIAA Distinguished Honors Graduate Lecture
Emily Cain '02H 
Executive Director, EMILY's List
The Myth of Electability: What it Really Takes for Women to Win
(24 September 2019)
---
2018-19
Isaac Record '03H 
Assistant Professor of Practice, Michigan State University's Lyman Briggs College
Life, the University and Everything: My Romp Across Disciplines in Pursuit of Answers
(27 September 2018)
2017-18
Sara Morris '86H 
Managing Director, Stone Coast Fund Services
Accounting for Happiness: The Rewards of Unlikely Career Choices, and the Lasting Value of Kindness
(26 September 2017)
2016-17
Mark Pettegrow '81H 
Sculptor
Fairing the Edge: In Search of Eloquent Form
(27 September 2016)
2015-16
Mark R. Haskell '82H 
Partner with the Washington D.C. office of Cadwalader, Wickersham & Taft, specializing in energy regulatory law.
(2 November 2015)
2014-15
Dr. Amy Benoit Frappier '99H 
Associate professor at Skidmore College in the Department of Geosciences, serving as Charles Lubin Family Professor for Women in Science
(2 February 2015)
2013-14
Dr. David Bronson '69H 
President of the Cleveland Clinic
Healthcare Reform and the Bumpy Road to Universal Access
(20 November 2013)
2012-13
Kristen Gwinn-Becker '97H 
Founder and CEO of HistoryIT
Navigating Entrepreneurship and the Humanities
(24 October 2012)
2010-11
Dr. Bruce Stanton '74H 
Andrew C. Vail Distinguished Professor at Dartmouth Medical School
Arsenic: A Global Public Health Crisis
(23 February 2011)
2009-10
Bettina Boxall '77H 
2009 Pulitzer Prize Winner in Explanatory Reporting
Please Don't Tweet Me: Journalism Today
(14 April 2010) 
2007-08
Dr. Bernard Lown '42H 
Recipient of the 1985 Nobel Peace Prize
On Global Activism in an Ailing World
(26 March 2008)
2005-06
Daniel P. Christensen '77H 
CEO of Hancock Natural Resource Group, President Hancock Timber Resource Group
Is Change the only Constant in the world today?
(24 April 2006)
2004-05
George Z. Singal '67H 
Chief United States District Judge, District of Maine
Wandering through the Garden of Eden: How do I get out of here?
(11 April 2005)
2003-04
Charles V. Stanhope, '71H 
Director of Development, United States Library of Congress
Making Sense of the Information Explosion: A View from the World's Largest Library
(12 April 2004)
2002-03
Carolyn Reed, '72H 
Director, Hollings Cancer Research Center, Medical University of  South Carolina
Breaking the Glass Ceiling: Medicine and Beyond
(21 April 2003)
2001-02
James Tierney, '69H
Attorney General of Maine, 1980-1990
Diversity in Maine: An Opportunity (22 April 2002)