The Honors Tutorial (Year 3)
Honors tutorials are small enrollment (up to 12), 3-credit classes that offer an in-depth look at a specific topic or theme. These courses are proposed by faculty from across campus, and the tutorials offered change each semester. To get a sense of what that means, check out our current Tutorials below.
You also have the option of completing our Tutorial Alternative in place of taking a traditional Honors Tutorial course. Examples of typically approved Tutorial Alternatives include study abroad, internships, REUs, etc. Learn more about the Tutorial Alternative here.
---

Fall 2022 Tutorials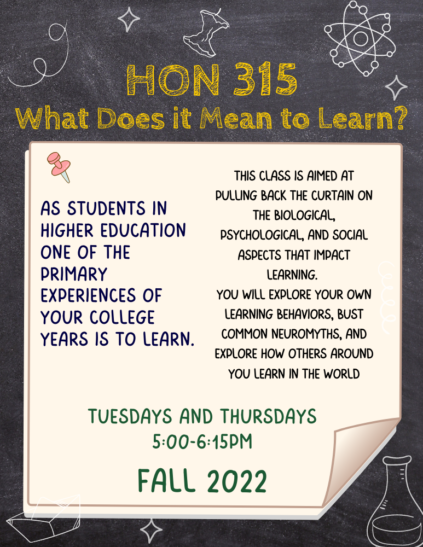 HON 315: What Does it Mean to Learn? with Karen Pelletreau (Tuesdays and Thursdays 5:00-6:15pm)
What does it mean to learn? As students in higher education one your primary experiences is to learn – about yourselves, the many subjects that together build the path to your future careers, and about the world around you. Yet, learning itself is a complex and curious process that extends beyond your tenacity with notecards or the intensity of your study sessions. This class is aimed at pulling back the curtain on the biological, psychological, and social aspects that impact learning.  How do factors such as your biology, lived experiences, biases, behaviors, and beliefs influence your learning?
Though there is experimental
evidence about what leads to effective learning, 
why do 
we rely on our intuition or 'gut feelings' about how best to learn
(
often to our detriment
)?
We
will explore your own learning behaviors, bust common neuromyths, and explore how others around you learn in the world.  In the end, I hope you will
emerge with a better understanding of this commonly used word "learning", and that you develop concrete

 

strategies to make you both a better university student and life-long learner.
---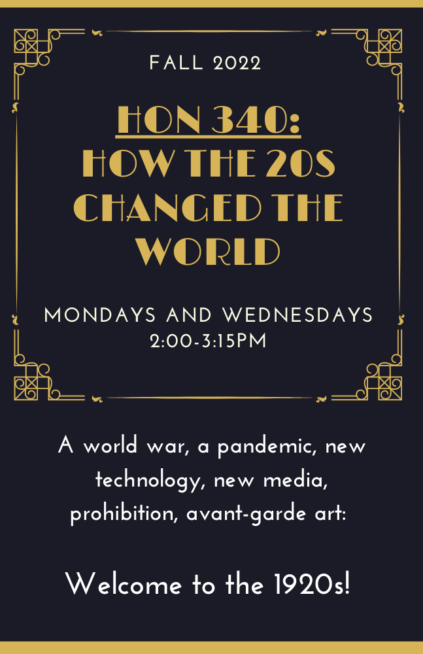 HON 340: How the 20s Changed the World with Jonathan Barron (Mondays and Wednesdays 2:00-3:15pm)
A world war, a pandemic, new technology, new media, prohibition, avant-garde art: welcome to the 1920s! In
this class, we will learn how the aftermath of World War I, a global pandemic, prohibition, and new ways of
thinking about reality converged to create our modern world. The generation that lived through World War I
—sometimes called the "Lost Generation"— challenged existing ideas and stereotypes, revolutionizing
everything from the meaning of art and individuality to the concept of physical reality itself. Throughout the
course, we will examine such institutions and phenomena as Hollywood, mass advertising, network radio,
modern art, and the science of quantum mechanics in order to understand how this generation challenged
prevailing norms and gave birth to the world we know today.
---

The Tutorial Alternative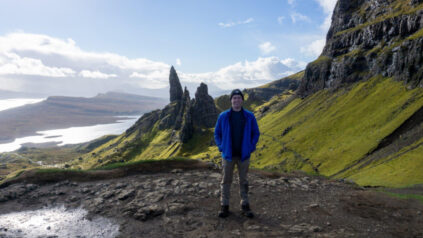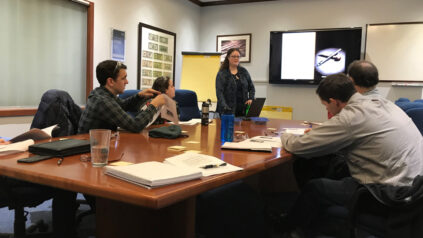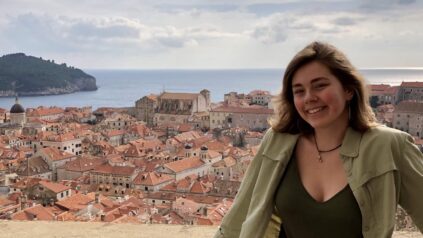 Qualifications
In some cases the tutorial requirement may be waived based on a Tutorial Alternative, which is defined as:
An academic or experiential learning opportunity involving small group interaction that is not available at the University of Maine and that is pre-approved by the Dean of the Honors College. Tutorial Alternative opportunities should include some if not all of the following: application of academic knowledge, intellectual merit, independent work, a cultural experience, and personal initiative. Because the alternative is in lieu of a 3-credit course only proposals that indicate the student will spend a comparable amount of time (approximately 80 hours, which can include preparation time for the experience as well as the experience itself) will be approved.  Such opportunities include, but are not limited to, study away experiences, engineering cooperatives, congressional internships, participation in Semester at Sea, cultural/language immersions, recognized summer REUs (Research Experiences for Undergraduates).
For information about Study Abroad opportunities through the University of Maine, click here to visit the website of the Office of International Programs.
Special Course Substitutions: The following UMaine courses for students studying Nursing, Education, Child Development and Family Relations, or Kinesiology and Physical Education can be substituted as Honors Tutorial Alternatives. These course substitutions should help make it much more possible to graduate from the Honors College with these degrees. 
NUR 306 – Care of Adults II Clinical
NUR 419 – Introduction and Service to Global Health
EHD 400 – Field Observation (Activity)
CHF 496 – Field Experience in Human Development and Family Studies
KPE 427 – Internship
You will still need to submit the application, enroll in HON 349, and complete the requirements* for the course, as described below.
*We understand that there can be legal restrictions on photographs during these courses due to patient or student confidentiality, etc. In these circumstances, we are able to grant an exemption for the requirement of 6 photos. If this applies to you, please simply reach out to the course coordinators when you are enrolled in HON 349 to let them know.
Instructions
Honors College students wishing to substitute an academic or experiential learning opportunity not available at the University of Maine in lieu of the  third-year tutorial must:
Apply: Submit an application for a tutorial alternative at least one month before embarking on your experience.  Click here to submit your application for a tutorial alternative.  (Typically you will be notified of whether your proposal is approved within two weeks of submission.)
Enroll: If approved, register to take HON 349 after you have returned by emailing honors@maine.edu. HON 349 is a 0 credit, P/F course. HON 349 should be taken within two semesters of the end of experience on which the Tutorial Alternative is based. NOTE: HON 349 is a 0 credit course. Taking this course will not add any credits towards a student's full-time load in consideration of Financial Aid awards that are dependent on this.
HON 349 Course: Complete the HON 349 course which requires submission of the following assignments:

Evidence of successful completion of any coursework involved in the Tutorial Alternative opportunity, typically a transcript or certificate (if applicable)
At least six photographs representative of the experience, including pictures of the student, that are suitable for the Honors College website, and
Completion of ONE of the following options:

ESSAY – A three- to five-page, double-spaced, reflective essay, OR
VIDEO – A three to five-minute video reflecting on your experiences.
If you have any questions about the Tutorial Alternative or HON 349, please reach out to us at honors@maine.edu.