The Honors Tutorial (Year 3)
Honors tutorials are small enrollment (up to 12), 3-credit classes that offer an in-depth look at a specific topic or theme. These courses are proposed by faculty from across campus, and the tutorials offered change each semester. To get a sense of what that means, check out our current Tutorials below.
You also have the option of completing our Tutorial Alternative in place of taking a traditional Honors Tutorial course. Examples of typically approved Tutorial Alternatives include study abroad, internships, REUs, etc. Learn more about the Tutorial Alternative here.
---

Winter 2021 Tutorials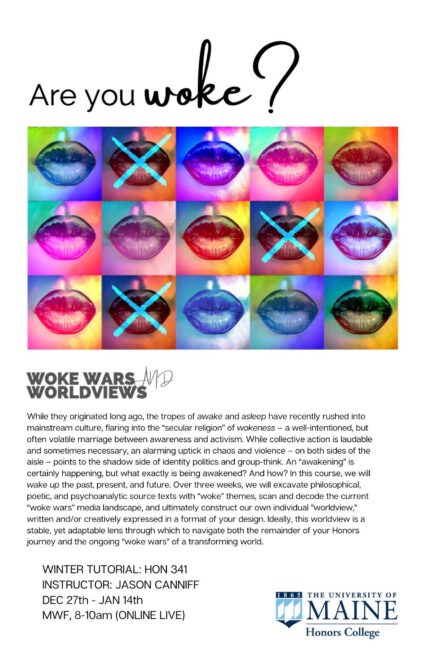 HON 341: Woke Wars and Worldviews with Jason Canniff, MWF 8-10am Online Live
While they originated long ago, the tropes of
awake
and
asleep
have recently rushed into mainstream culture, flaring into the "secular religion" of
wokeness
– a well-intentioned, but often volatile marriage between awareness and activism. While collective action is laudable and sometimes necessary, an alarming uptick in chaos and violence – on both sides of the aisle – points to the shadow side of identity politics and group-think. An "awakening" is certainly happening, but what exactly is being awakened? And how?  In this course, we will
wake up
the past, present, and future.  Over three weeks, we will excavate philosophical, poetic, and psychoanalytic source texts with "woke" themes, scan and decode the current "woke wars" media landscape, and ultimately construct our own individual "worldview," written and/or creatively expressed in a format of your design.  Ideally, this worldview is a stable, yet adaptable lens through which to navigate both the remainder of your Honors journey and the ongoing "woke wars" of a transforming world.
---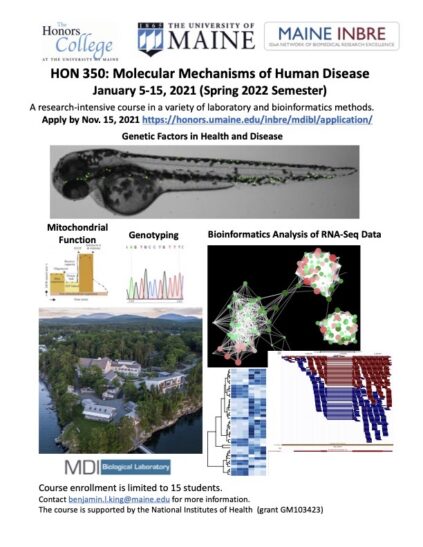 HON 350: Molecular Mechanisms of Human Disease with Prof. Ben King
During the HON 350 course, students are split up into teams and rotate through three different modules that each last two days. Rotations include (1) studying how low-level environmental and genetic factors impact innate immune system function in zebrafish embryos through bioinformatics analysis of RNA sequence data, (2) advanced microscopy techniques used to study disease mechanisms, and (3) learning about personalized medicine where treatments are tailored to an individual's genotype. The module utilizes three different genotyping methods using PCR and sequencing. At the end of each rotation, teams will present a summary of your work including data collected.
The application form for the course (due Nov. 15th) is available at honors.umaine.edu/inbre. Course materials are paid by the Maine INBRE Program that is funded by the National Institutes of Health. Please contact Prof. Ben King (benjamin.l.king@maine.edu) for more information about the course.
---

Spring 2022 Tutorials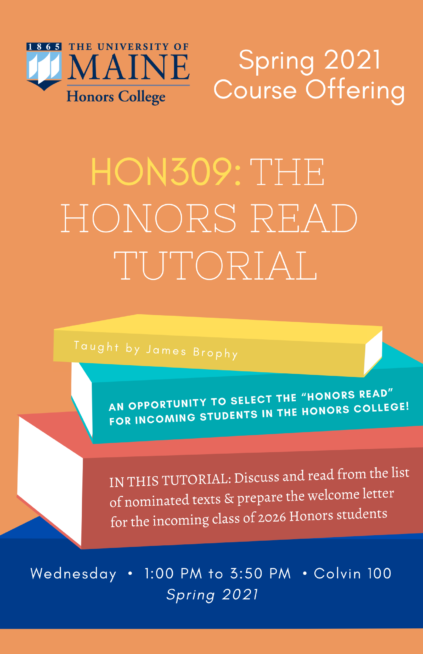 HON 309: The Honors Read with James Brophy, Wednesday 1-3:50pm
The Honors Read Tutorial offers current students a unique chance to shape the experience of incoming students by selecting the Honors Read text. As you know, every incoming Honors student reads and discusses a common text–the Honors Read. The Honors Read both creates community among our incoming scholars and conveys an important message about who we are and what we value. In this tutorial, students will examine the list of books nominated by the university community and from that list will choose eight texts that will be reviewed during the course. Through reading, analysis, discussion, and debate, students will ultimately choose the 2022 Honors Read text. As a class, students will develop and refine criteria for the decision and prepare a welcome letter to be delivered with the book. This is a wonderful opportunity to shape important conversations, to transform perceptions, and to have far-reaching impact on the class of 2026!
---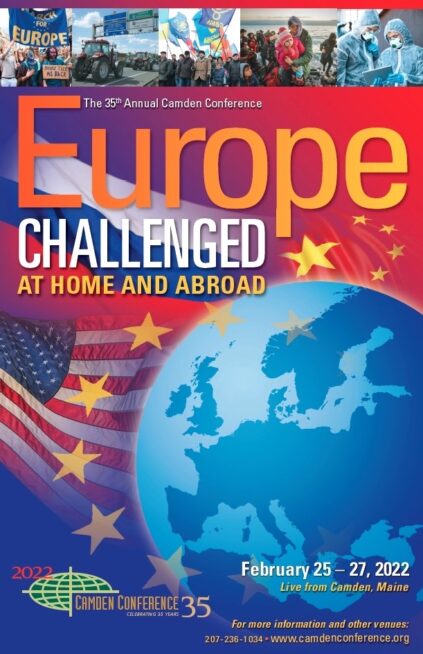 HON 338: Camden Conference with Dr. Stefano Tijerina
Accompanying the Camden Conference held each spring, this course's goal is for students to gain an appreciation of the dynamics of the global system in the contemporary period, and an understanding of the constraints and opportunities facing U.S. foreign policy. The 2022 Camden Conference theme will be Europe today — what is happening and what we can anticipate. Europe's leaders and citizens are facing pervasive economic, political and social challenges, some exacerbated by the global pandemic. How cohesive is the European Union? Where are populist movements headed, and where are democratic institutions under threat? What will happen to the European-United States bond as a new generation of leaders pursue their own agendas with Russia, China and other countries? When can we rely on Europe, and can Europeans rely on us? 
Students attend the conference and normally meet with conference participants. For more information on Camden Conference program development, confirmed speakers, and community events on topics related to the conference theme, please visit the website, camdenconference.org.
---

The Tutorial Alternative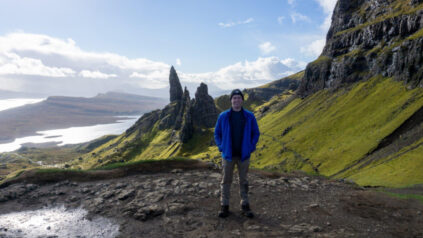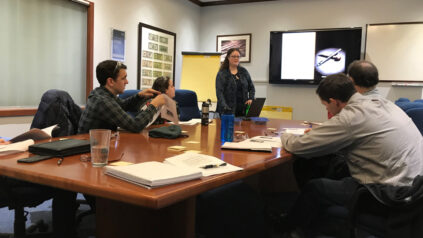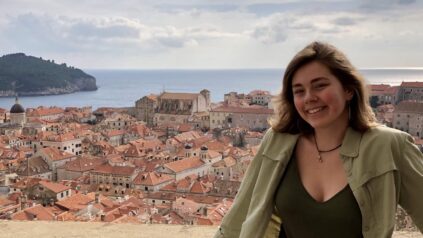 Qualifications
In some cases the tutorial requirement may be waived based on a Tutorial Alternative, which is defined as:
An academic or experiential learning opportunity involving small group interaction that is not available at the University of Maine and that is pre-approved by the Dean of the Honors College. Tutorial Alternative opportunities should include some if not all of the following: application of academic knowledge, intellectual merit, independent work, a cultural experience, and personal initiative. Because the alternative is in lieu of a 3-credit course only proposals that indicate the student will spend a comparable amount of time (approximately 80 hours, which can include preparation time for the experience as well as the experience itself) will be approved.  Such opportunities include, but are not limited to, study away experiences, engineering cooperatives, congressional internships, participation in Semester at Sea, cultural/language immersions, recognized summer REUs (Research Experiences for Undergraduates).
For information about Study Abroad opportunities through the University of Maine, click here to visit the website of the Office of International Programs.
Special Course Substitutions: The following UMaine courses for students studying Nursing, Education, Child Development and Family Relations, or Kinesiology and Physical Education can be substituted as Honors Tutorial Alternatives. These course substitution should help make it much more possible to graduate from the Honors College with these degrees. 
NUR 306 – Care of Adults II Clinical
NUR 419 – Introduction and Service to Global Health
EHD 400 – Field Observation (Activity)
CHF 496 – Field Experience in Human Development and Family Studies
KPE 427 – Internship
You will still need to submit the application, enroll in HON349, and complete the requirements* for the course, as described below.
*We understand that there can be legal restrictions on photographs during these courses due to patient or student confidentiality, etc. In these circumstances, we are able to grant an exemption for the requirement of 6 photos. If this applies to you, please simply reach out to the course coordinators when you are enrolled in HON349 to let them know.
Instructions
Honors College students wishing to substitute an academic or experiential learning opportunity not available at the University of Maine in lieu of the  third-year tutorial must:
Apply: Submit an application for a tutorial alternative at least one month before embarking on your experience.  Click here to submit your application for a tutorial alternative online.  (Typically you will be notified of whether your proposal is approved within two weeks of submission.)
Enroll: If approved, register to take HON 349 after you have returned by emailing honors@maine.edu. HON 349 is a 0 credit, P/F course. HON 349 should be taken within two semesters of the end of experience on which the Tutorial Alternative is based. NOTE: HON 349 is a 0 credit course. Taking this course will not add any credits towards a student's full-time load in consideration of Financial Aid awards that are dependent on this.
HON349 Course: Complete the HON349 course which requires submission of the following assignments:

Evidence of successful completion of any coursework involved in the Tutorial Alternative opportunity, typically a transcript or certificate (if applicable)
At least six photographs representative of the experience, including pictures of the student, that are suitable for the Honors College website, and
Completion of ONE of the following options:

ESSAY – A three- to five-page, double-spaced, reflective essay, OR
VIDEO – A three to five-minute video reflecting on your experiences.
If you have any questions about the Tutorial Alternative or HON349, please reach out to the Honors Associates.