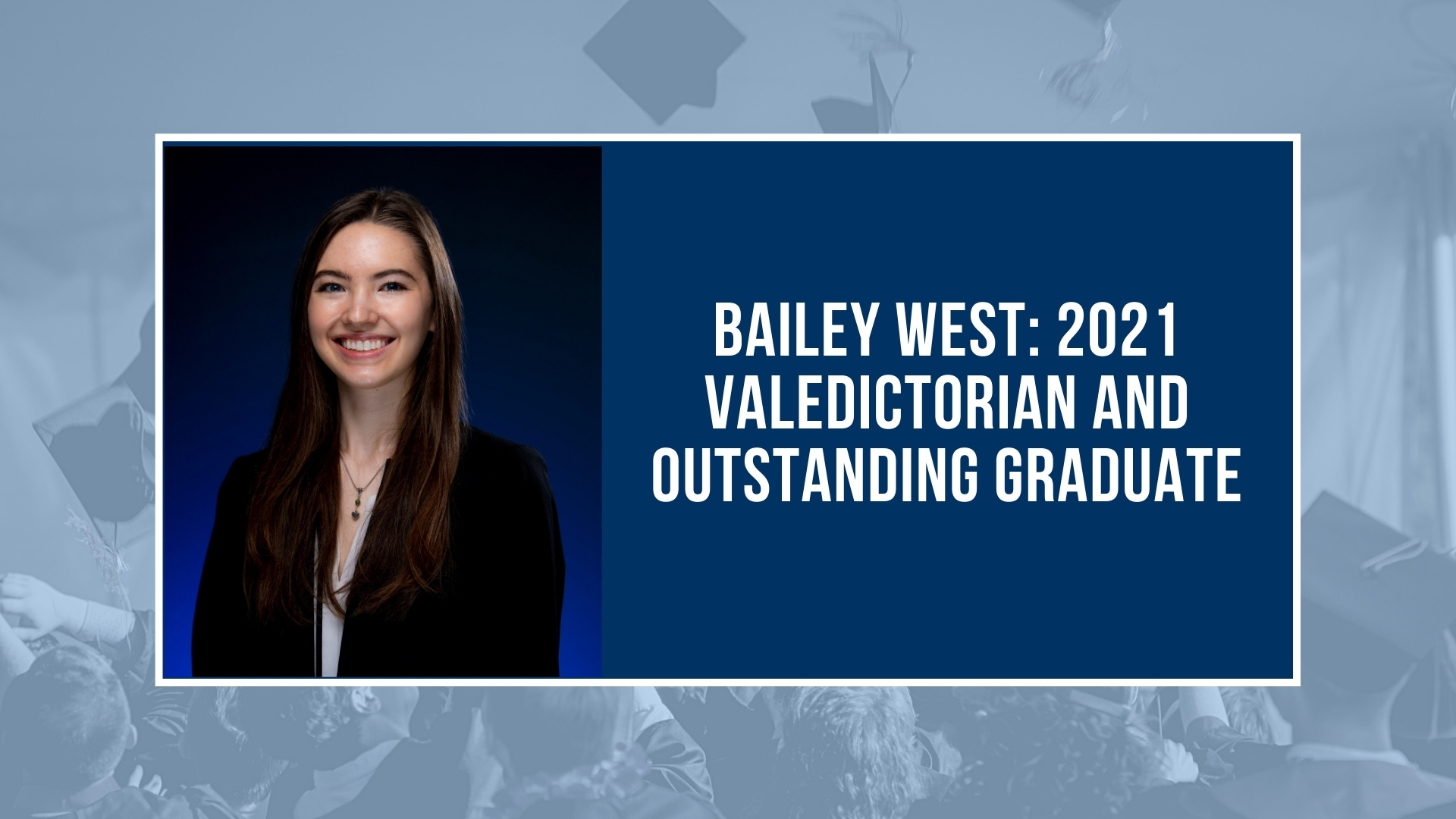 Bailey West Named 2021 University of Maine Valedictorian; Outstanding Graduating Student in Honors and NSFA
Honors student and biochemistry major Bailey West was recently named the valedictorian for the University of Maine Class of 2021! In addition, Bailey was recognized by the Honors College and the College of Natural Sciences, Forestry, and Agriculture as the Outstanding Graduating Student in both colleges.
Bailey has been an active member of the Honors community throughout her time at the University of Maine. She is the long-standing student organizer for the Honors College's annual Walk to End Alzheimer's team, bringing staff, faculty, and students together each fall in support of Alzheimer's awareness.
She also works as an Honors College Student Ambassador, serving as a community builder and resource for prospective and current Honors students. Last year, Bailey and the other ambassadors supported a Giving Tuesday personal care item collection event to benefit the Black Bear Exchange.
The success of this event inspired Bailey, alongside fellow ambassador Katie Tims, to develop the "It's Personal" personal care item donation campaign. The duo received a Maine Hunger Dialogue grant to fund their extended work on this pressing issue. Click to read an interview with Bailey and Katie and learn more about the "It's Personal" campaign.
In an interview with UMaine News, Bailey discussed the impact that being a part of the Honors College had on her academic experience. "With its strong emphasis on the humanities and discussion-based learning, the Honors College experience has challenged me to embrace new perspectives and subject areas outside of my discipline. The Honors College has also provided me with experiential learning through service projects and travel opportunities, including a trip to Washington, D.C.," described Bailey.
Bailey is currently working on her Honors thesis, advised by Professor Julie Gosse. Her thesis, titled "Oral-Care Antimicrobial Cetylpyridinium Chloride Inhibits Mast Cell Function: Role of Tyrosine Phosphorylation Cascade?" is set to be defended in early May. In addition to the thesis document, all Honors thesis students produce a reading list, made up of twelve to fifteen texts that have played a significant role in their development. Bailey's Honors reading list is a narrative essay that weaves texts and experiences from childhood and college into a meditation on personal and intellectual growth.
After graduation, Bailey will participate in The Jackson Lab's Summer Student Program, a 10-week research fellowship in mammalian genetics and genomics. She plans to pursue a Ph.D. in pathobiology at the Johns Hopkins University School of Medicine beginning this fall.
Congratulations, Bailey, on all of your accomplishments thus far—and best of luck in achieving all those that lie ahead!